Ripple is a peer-to-peer payment protocol established for financial enterprise use, such as banks and payment providers. Originally named Opencoin, Ripple expedites cross-border transactions at low-costs by removing intermediaries that are currently present in modern transaction methods, such as the outdated SWIFT system.
Its official currency, the Ripple token (XRP), is the vehicle that will be utilized to make exchanges between the transactional parties. Although utilizing blockchain technology, Ripple differentiates from Bitcoin as it is a centralized currency, not decentralized.
Known as the digital asset for payments, the Ripple coin poses a few stark differences to cryptocurrencies such as Bitcoin and Ethereum.
On its website, Ripple states that it is built on "the most advanced blockchain technology that is scalable". Ripple's open-source, distributed ledger allows entities to transact multiple currencies through utilizing native cryptocurrency, XRP, as its medium. As stated by the Consultative Group to Assist the Poor (CGAP) in 2015, "Ripple does for payments what SMTP did for email, which is enable the systems of different financial institutions to communicate directly."
How Ripple Works
Below is an image illustrating the process of how Ripple differentiates from the pre-internet networks payments still used today.
There are three "solutions" to these issues Ripple has offered banks include:
xCurrent: Software which provides instant settlement of cross-border payments
xRapid: Low-cost liquidity through enabling on-demand XRP
xVia: Standard interface used by entities to send payments worldwide
Ripple Advantages
As shown above, the current payment architecture relies on intermediaries to conduct transactions. Ripple solves the issues associated with this by facilitating instant, lower cost transactions and reduces significant risks associated when dealing with third parties.
According to the World Trade Organization, the fees associated with the current global payment system cost $1.6 trillion annually. According to Ripple's site, the current system is also slow, unreliable, and frankly unacceptable for our day in age.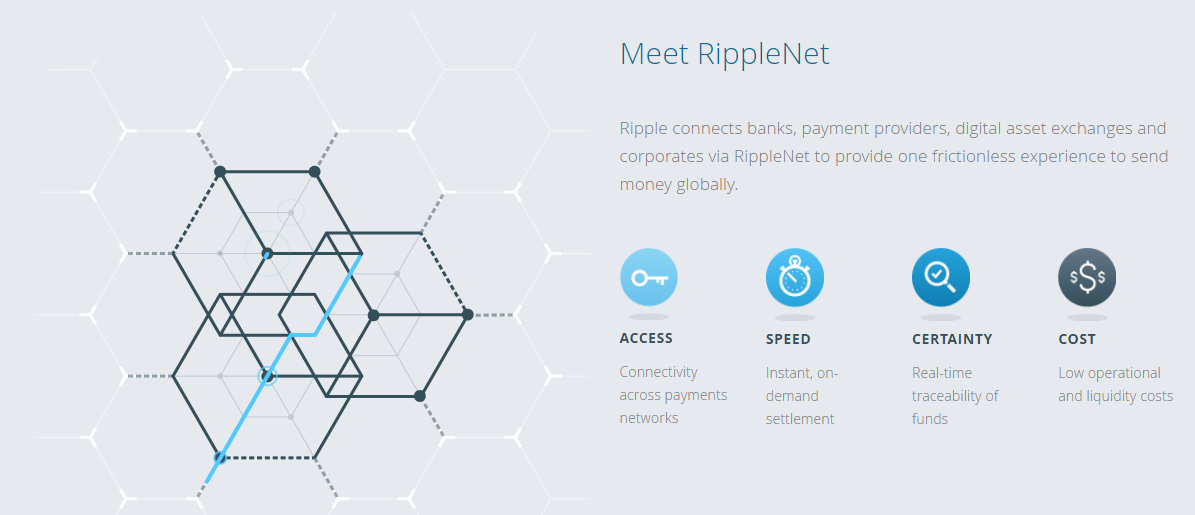 Payments settle an average of 4 seconds. Compared to Ethereum at 2+ minutes and 1+ hours for Bitcoin for settlements, these are lightning speeds, especially compared to current "traditional" systems which take 3-5 days.
Moreover, XRP is extremely scalable. While Ethereum can handle 15 transactions per second and Bitcoins ability at 3-6 transactions per second, XRP accomplishes 1500 transactions per second.
How to Buy Ripple
It is a bit difficult to directly purchase XRP, but if you wish to do so, one reputable exchange that allows debit and credit card purchases is Bitstamp. Exchanges like CoinMama and Coinbase allow you to purchase Bitcoin through credit cards. Like with many altcoins, after receiving the Bitcoin (which can take up to a week on Coinbase), you are able to deposit or "send" your coins to another wallet on exchanges like Binance.
Once the transaction is processed and your funds deposited, you are able to trade your Bitcoin for XRP. However, both Coinbase and CoinMama require verification of ID (such as license or passport) before allowing you to buy using their available payment methods. For further details on how to purchase XRP, you can visit Ripple's website which offers a complete list of exchanges and purchase instructions associated with those exchanges here.
As is shown in the Price graph in the image above, Ripple has experienced a relatively steady, slow growth up until recent times. Mass global interest in Ripple has it trading at $2.66 at the time of writing, a dramatic increase of roughly %1056 from one month ago.  On November 30th,  it could be bought at $0.23. Reasons for the price increases include circulating rumors that the token will be added to Coinbase, and the announcements of Ripple Labs various partnerships with financial institutions.
The market cap of Ripple is roughly around $108 billion (and rising on the daily) with a circulating supply of nearly 39 Billion XRP. One should note the 24-hour change to the left of the price graph in the image above, an increase of 90.67%.
Ripple Popular Exchanges
At the time of writing, XRP is available on 50+ exchanges. These include popular exchanges such as
Binance is often regarded as a top exchange choice for its low fees.
How to Store Ripple
Depending on your use for XRP (such as if you plan on HODLing or day-trading), you may be looking at different avenues to store your tokens, as listed below.
Ripple Partnerships
According to its website, Ripple has over 100 global customers including 75+ customers who will put XRP into commercial use. Ripple recent headlines include big-name partnerships in the financial world, such as Japanese firm SBI Holdings, who together plan on furthering the implementation of Ripple throughout other Japanese financial entities. The announcement is a major deal: it means that XRP will be at the center of the stage as a "national banking organization" employs a virtual currency exchange for the first time. Other bank giants working with Ripple Labs include Spanish banking group Santander and NYC based American Express.
Conclusion
XRP has been making financial headlines this past month with its recent surge in price. The current SWIFT system, which Ripple is often compared to due its global payments services, was created in 1973 (44 years ago).
Linked to more than 11,000 financial institutions in more in nearly 200 countries, it is surprising that while with the many incredible technological innovations which have occurred over this time, one of the last to see an update is an industry with so much power and influence.
With Ripple's functionality and foreseeable use in the financial service industry, it is no surprise that investors are jumping in on get in on the action. True believers in Ripple see it as the future of banking and are holding investments for the long-term. It is not unreasonable to believe that Ripple could replace the outdated SWIFT system and make lengthy, costly payments a thing of the past.
Another interesting aspect is Ripple's implication for the poor, who are often denied access to bank services. According to CGAP, "antiquated infrastructure lacks interoperability and involves multiple intermediaries to execute payments. This creates delays, costs, and risks that prevent payment systems from adequately serving the world's poorest." So, while many in the cryptocurrency community are against Ripple for being "the banks coin", its implementation could possibly the world a big service.