Bitstamp Review: The Complete Takeaway
Founded as a European alternative to the once-popular Mt. Gox exchange, Bitstamp was first established in Slovenia in 2011, making it one of the oldest cryptocurrency exchanges around. It has capitalized on its well-known status and has since grown even more popular, especially for its low-cost SEPA payments and accessibility. Though Bitstamp is now located in Luxembourg, it has offices around the world and caters to traders and investors in nearly every country. With fiat support, a decent variety of cryptocurrencies to trade, and licensing as a Payment Institution from European authorities, Bitstamp remains a central, secure position in the maturing cryptocurrency ecosystem.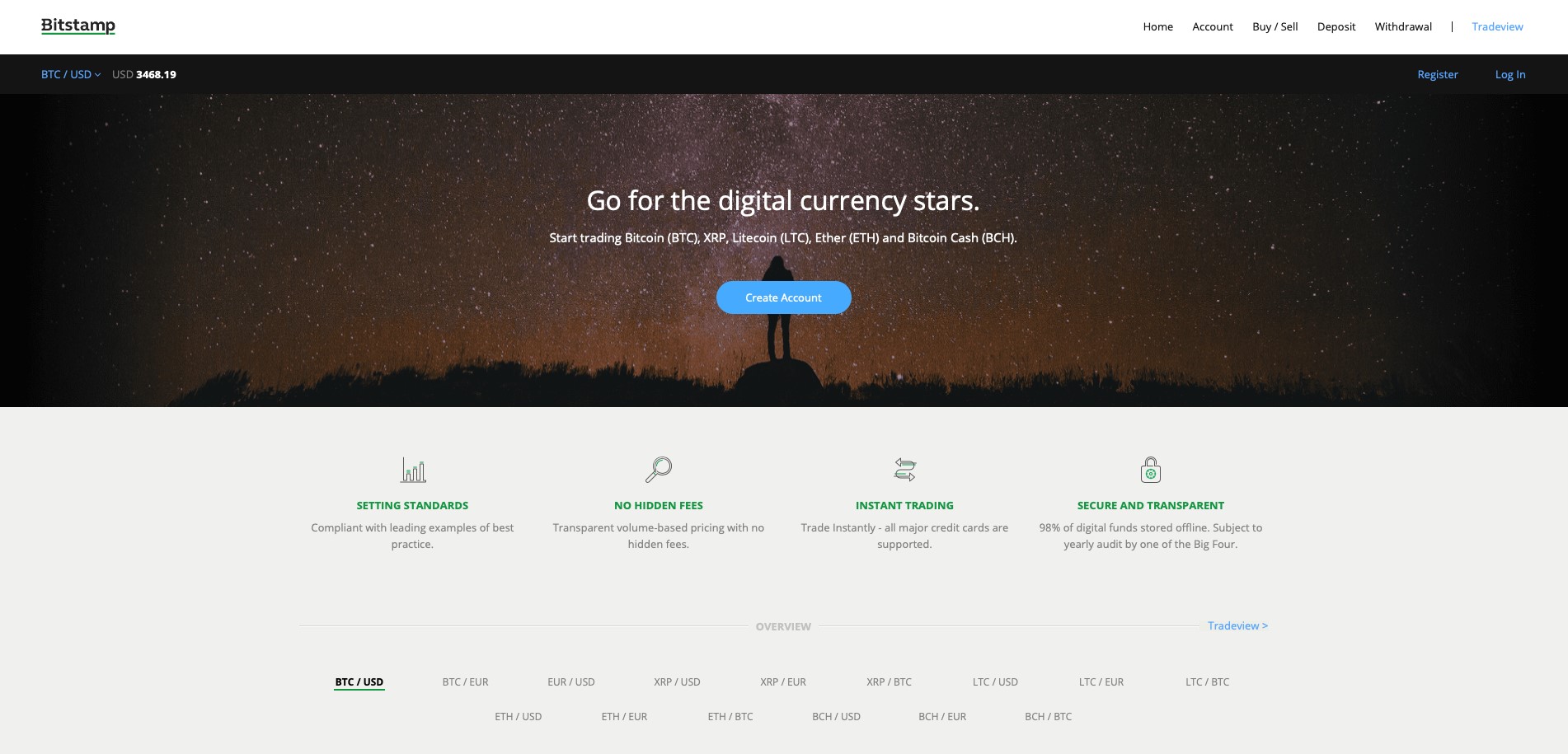 | | |
| --- | --- |
| Bitstamp Key Information | |
| Company Location: | Luxembourg |
| Mobile App: | Yes (iOS, Android) |
| Fiat Deposit: | Yes |
| Fiat Withdrawal: | Yes |
| Transfer Limits: | None |
| Supported Fiat: | EUR, USD, CAD, JPY, GBP, CHF |
| Payment Methods Accepted | SEPA payments, International bank wire, cryptocurrency, AstroPay |
| Supported Crypto: | Bitcoin (BTC), Bitcoin Cash (BTC), Ethereum (ETH), Ripple (XRP), and Litecoin (LTC) |
| Supported Countries: | Over 60 including EU area, but also Australia, Brazil, China, Japan, and more |
| Fees: | SEPA deposits/withdrawals (free/€0.90) Bank wire (0.05%/0.09%) Trading fees between 0.10%-0.25% |
| Website (URL): | Start trading at Bitstamp.net |
Login and Signup
To start a new Bitstamp account, click on Register in the top right corner of the home page. Enter your first and last name, a valid email address where you'd like to receive relevant mail from Bitstamp, and your country of residence. Pass a quick captcha where you'll choose image tiles with a certain theme, and then click Register.
After submitting your registration, you need to confirm your email by clicking on the link provided in the mail that Bitstamp sent. Bitstamp will assign you a unique user ID—you can't pick your own—which will function as a username on the platform. Write down the username they assign and select a strong password, then click Activate. You'll be prompted to log in with your new username and password and will then see the Bitstamp dashboard.
How Bitstamp Works
Before being able to trade with full functionality, you must activate 2-factor authentication and verify your account. Click on either of the links in the pop-up that appears to get started. It's appreciated that Bitstamp enforces these security measures on new users, which help to keep its platform safer for all.
Two-factor authentication is only available via Google Authenticator, though the setup page doesn't explain this. Users need to write down or print the QR code and authentication key displayed here, which is the only way that the appropriate 2FA key can be recovered in the event they lose their device and can't login. After adding Bitstamp to the Authenticator app using the key or code, Bitstamp requires one confirmation to activate 2FA, so type the 6-digit code generated by the app.
The other step to complete before trading is to verify your account. You'll notice that the same page with the 2FA setup also has several account-level settings like coupon redemption, order history, SMS price alerts and more. Near the bottom Verify Account is visible, so click here and then choose Personal Account Verification (assuming you're an individual trader and not a corporation).
This leg of the verification process requires your full name, address, birth date, US tax details and social security number (if applicable), as well as a government-issued ID document and proof of residence. You'll need to upload high-resolution images or scans of these documents for verification by Bitstamp's team. Acceptable proof of residence documents include bank statements, bills, tax papers and some other options.
After submitting the verification request, Bitstamp will unlock the full range of deposit and withdrawal methods available on the platform. You can get started by navigating to the Deposit menu at the top of the page and then selecting from any of the options listed on the left side.
European Bitstamp users can make SEPA bank payments for very low fees and expect their account to be credited within one to three days. International wire transfers are also accepted on Bitstamp as are blockchain wallet transfers of cryptocurrency. Users can also choose to deposit EUR and have it automatically converted to USD if they like, and Bitstamp also makes it easy to withdraw fiat and cryptocurrency.
Depositing fiat used to be possible with credit card, but Bitstamp has discontinued this service. Once the wire transfer goes through, your wallet will be updated to reflect your appropriate fiat balance. Cryptocurrency deposits are just as easy and are accomplished in the traditional manner: Click on Bitcoin (BTC), for example, to generate a Bitstamp BTC wallet deposit address, which you'll paste into the wallet you're withdrawing from.
To buy cryptocurrency on Bitstamp, you can use the simple Buy/Sell menu which allows you to place quick orders, or can do so by clicking on Tradeview—which resembles a traditional exchange interface with charts, order windows and more. Sort the menu by the counter-currency most relevant to you (only USD, EUR, and BTC), and then navigate to the order box on the right side of the page.
You can make an Instant (market) Order and simply enter the amount of USD, for example, you'd like to exchange for crypto. You can also set a Limit or Stop Order in the same window which allow greater control over entry and exit prices. When the order fills, you'll see your new balance reflected in the top banner of the Bitstamp page. The same process works for selling a cryptocurrency and withdrawing fiat or cryptocurrency is possible via the Withdrawal page (next to Deposit on the top-right).
Countries Supported
Bitstamp is broadly accessible to US and EU customers, but also other countries such as Australia, Hong Kong, New Zealand, and Singapore. Regulated and licensed in the EU, users from any of the 28 member countries and any of the 50+ other countries supported by Bitstamp will enjoy safety, security, and customer support in a wide variety of languages.
Supported Cryptocurrencies and Liquidity
Bitstamp has a 24h hour volume of approximately $47 million and is ranked number 40 on the list of exchanges by volume. With around 60% of this volume traded in Bitcoin exclusively, Bitcoin traders with USD as a counter-currency will enjoy high liquidity, while more uncommon pairs like LTC/EUR less so. One point against Bitstamp is its relatively restricted variety of cryptocurrencies, which only include Bitcoin, Bitcoin Cash, Litecoin, Ethereum, and Ripple. Additionally, the only counter-currencies supported are BTC, USD, and EUR.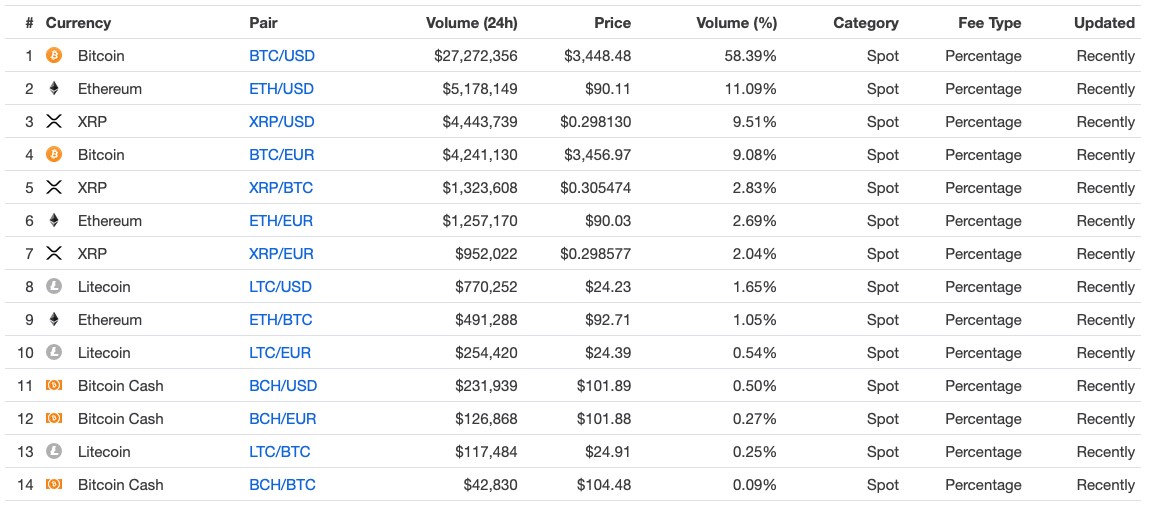 Deposit/Trading/Withdrawal Fees
Fees are one area where Bitstamp excels and provides great value to users. European customers will enjoy SEPA deposits with zero fees, and withdrawal charges of just €0.90. International customers doing a bank wire deposit incur fees of just 0.05% (minimum $7.50/€7.50 and maximum $300/€300). Withdrawal fees for international bank wires are 0.09% (minimum $15/€15 and no maximum). All cryptocurrency withdrawal and deposits are free as well, meaning that Bitstamp may just have the lowest fees of any non-decentralized exchange in the world. Trading fees follow a classic schedule which scales by monthly user trade volume—and can be as low as 0.10% and as high as 0.25%.
Bitstamp Transfer Limits
Verified users have the freedom to deposit and withdraw as much fiat and cryptocurrency as they like. This is rare in the cryptocurrency industry as most exchanges impose monthly limits even on their most verified users. Some users report that as an account begins handling larger and larger sums (in the high five-figure or low six-figure range), Bitstamp representatives will get in touch via email to ensure the account is being used responsibly (that a company hasn't accidentally or intentionally registered itself as an individual or vice versa, for example).
Payment Methods Accepted
Bitstamp supports wire payments from SEPA-affiliated banks in the European Union, and for nearly nonexistent fees. International wire transfers from other banks are also allowed on the platform, though with slightly higher fees, and only for supported fiat currencies. With cryptocurrency wallets hosted on the Bitstamp platform, direct transfers of cryptocurrency wallet-to-wallet are also supported and are fee-less.
Security: Is Bitstamp Safe to Use?
Bitstamp makes 2-factor authentication and identity verification mandatory to deposit, withdraw, or trade. This alone makes it that much safer than exchanges which allow unverified users and unsecured accounts, but Bitstamp reinforces these measures by holding 98% of funds in cold storage, insuring them completely, and encrypting all user data with PGP. Though the exchange did suffer a hack in 2014, it has since upgraded its security features and has been hack-free ever since. It's now known as one of the most secure exchanges around.
Bitstamp Reputation
As the first regulated and fully licensed exchange in the EU, Bitstamp is trusted by the many traders who rely on its services. Europeans especially appreciate Bitstamp for its ease-of-use and accelerated avenue for fiat into the cryptocurrency ecosystem and see it as a "base of operations" or jumping off point for further ventures into altcoin territory on other exchanges.
Conclusion
Bitstamp is a reliable and upstanding platform among its peers in the cryptocurrency marketplace and provides safe, regulated storage and trading services to countless users around the world. It's a secure portal for beginners to enter the cryptocurrency space with their fiat money, and also for them to exit the market when they like. However, catering to beginners also comes with downsides, including the lack of more complicated tools like margin trading and lack of support for very many cryptocurrencies. Despite this, Bitstamp remains a compliant, reputable, and accessible gateway to the crypto world.