Elastos (ELA) Review – Safely Distributing Digital Assets on the Blockchain
Elastos aims to be a platform for decentralized applications (DApps) on a peer-to-peer network that run without the need for a third party. Users will be able to access DApps via their mobile phones, regardless of their operating system. The idea is to provide a completely safe environment on the web in which DApps are not connected to the internet but allow full scalability to millions of users. This will enable wealth generation through ownerships and exchange of data and digital assets.
The Idea Behind Elastos
When you download a digital book from Amazon, do you own the book? Or do you pay a third-party who owns to book for the privilege of letting you read it?
Elastos' goal is to build a new internet, a Smart Web, where the safety and economic distribution of digital assets are of prime importance. On this new internet, people can own digital assets, sell them, and monetize them. Movies, games, articles – any digital asset on the web – will be able to be accessed without the need for third parties such as Amazon, Netflix, Spotify or YouTube.
The team was founded by Rong Chen, who previously worked as a senior software engineer at Microsoft, where he started to design the architecture for Elastos that was predicated on the idea of allowing for applications and services to operate without connecting directly to the internet. In addition, he was also the Chairman and CEO of Kortide, a solution for cross-platform development of applications, widgets, and services on smart phone platforms such as Android, Windows Mobile, and iOS.
Elastos has benefited from many strategic partnerships, including a partnership with Trust Credit Power, a company that is working to reconstruct the trust and credit system to provide individuals and business entities with capabilities and authority. As its first application in the housing market, it will work with Elastos to deploy housing leasing blockchain applications with the use of its technology.
The company also has a global strategic partnership with FRESCO, the world's first blockchain art digital asset network, and Weatherblock, a blockchain-based weather data exchange platform.
In addition, it has a partnership with NEX, New Energy Exchange, which is backed by Huawei and Panda Green. NEX works towards clean energy sources such as solar, wind and hydropower to better implement blockchain technology. The company has many other partnerships and will continue to create more in the future.
Perhaps its most impressive investor is that of $31 million from Foxconn, the world's largest contract maker of consumer electrics. It is best known for iPhones and other Apple devices, although it has started to change its business structure to become less dependent on iPhone assembly with the public listing of its smart factory and cloud computing division, FII, on the Shanghai stock exchange. This was China's largest IPO since 2015.
Elastos Token Price History
After the launch of Elastos in early February, the coin briefly shot up to $89.19 at the end of February. A few days later the company announced their partnership with NEX. After falling for a few months, the coin rose again to $58.25 later in May.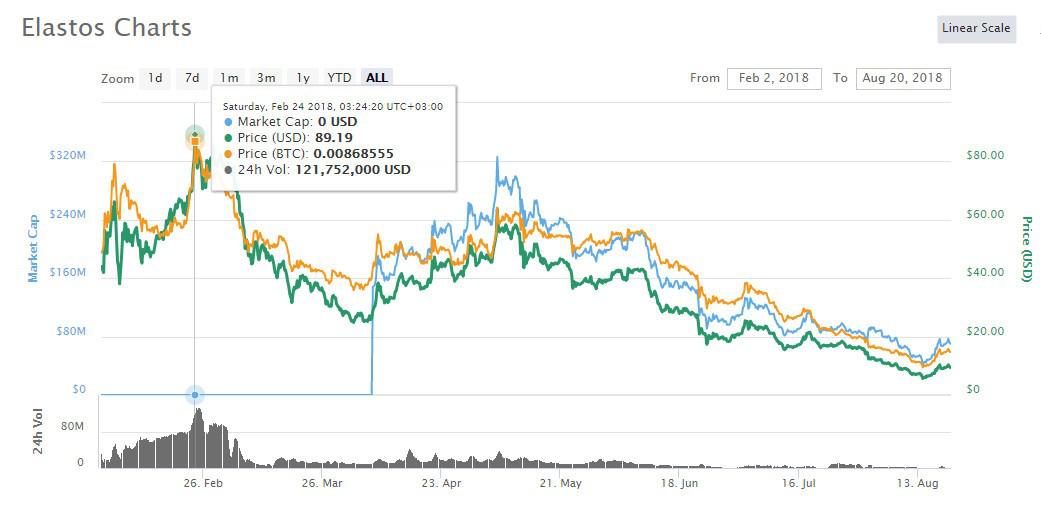 The Elastos Technology
Elastos' technology is comprised of scalable architecture, which includes main chain and sidechains. Each DApp has its own sidechain.
Sidechains
One of the challenges of blockchain technology is its weaker computing power compared with a traditional computer. As a result, it cannot meet requirements necessary for applications such as video games or streaming a high-definition movie. In order to be able to scale, the Elastos team believes that sidechains are necessary for applications to continue running with high IOPS.
The Elastos main chain is responsible for trading and transferring ELA, and is limited in other transactions to avoid flooding the main chain with unnecessary smart contracts. Other transactions should take place on the sidechains, such as: ID generation, token distribution, digital asset trading, and fast payment systems. Tokens can also be published on sidechains and participate in two-way asset transfers across both the main and sidechains. Merged mining will contribute to minimized electricity costs and environmental pollution.
The Elastos Smart Web
The original design of the architecture of Elastos came from the idea that a platform was needed for applications and services that could not access the internet directly. This would solve issues of malware, stealing user data or attacking other services on the Internet.
In addition, Elastos has a variety of other features. Its public chain is clean and simple and not able to be viewed by third-party applications and services. To prevent an overload of the main chain it has a few predefined sidechains that are built into the Elastos Carrier platform.
The ability to issue tokens for digital assets or applications and established ownership of digital content is available through smart contracts. Both Elastos smart contracts and DApps run on the Elastos Smart Web, creating a closed platform so that users don't have to constantly move on and off the blockchain. It is this closed platform that creates the economic zone of safety and atmosphere conducive to building wealth.
Elastos Blockchain
The aim is for a decentralized Smart Web in which every device, individual, website and digital asset is attached to a trustworthy ID. Blockchain will be the technology used to establish this trust on the internet. In the Elastos blockchain, every application is able to create individual and customizable sidechains.
Elastos Runtime
Elastos Runtime is a lightweight operating system that works to prevent applications and services from directly accessing the internet. It runs on the customer's mobile device or PC and is available for Android, iOS, and Ubuntu Linux.
Elastos Carrier
This is a completely decentralized peer-to-peer platform. It takes over all network traffic between virtual machines, transmitting information on the behalf of applications. The nodes with the system can be executed in any internet-connected environment, whether homes or workplaces. Nodes establish connections with one another using the          User Datagram Protocol, Network Address Translator (UDP-based NAT).
Elastos Software Development Kit (SDK)
The SDK is needed for applications to access their IDs and Elastos Carrier services on the Smart Web.
The Elastos Token
The Elastos Token, or ELA, is the native token for the Elastos blockchain. There will only ever be a total of 33 million ELA in existence, but the amount of ELA in circulation will increase annually at a fixed rate of 4%.
The token distribution is as follows:
DApps will use ELA for services such as using domain name registrations, search engines, and page ranking. Users will use ELA to purchase items such as DApps, cloud storage and many other resources.
How to Purchase ELA
Huobi is the main option for purchasing ELA, as well as the exchange where it has the highest volume of trading. It is available for purchasing with USDT, BTC and ETH.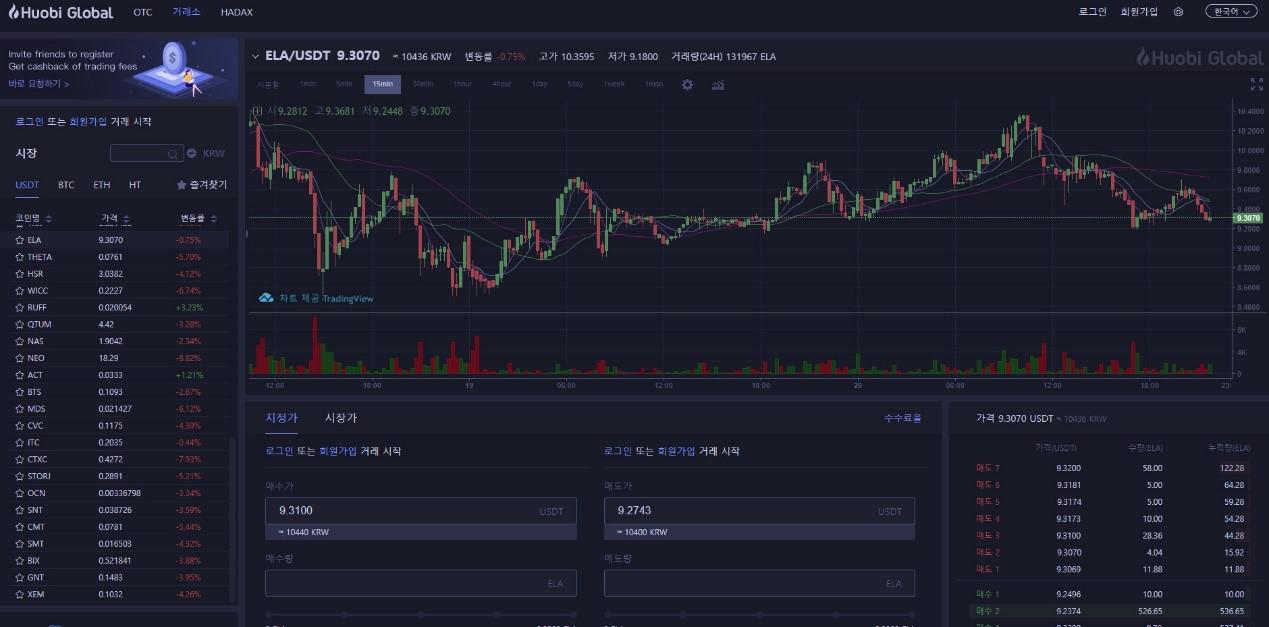 ELA is also available on the following exchanges:
Where to Mine ELA
Merged Mining
Merged mining is when two different cryptocurrencies which are based on the same algorithm can be mined at the same time. In the case of Elastos, the Bitcoin blockchain is its parent blockchain.
ELA is produced every two minutes during Bitcoin merged mining. The new coins are allocated as follows: 30% to the Elastos Foundation and 70% to miners.
How to Store ELA
Elastos has its own wallet, which can be found on their website.
For maximum security, however, it is best to store ELA offline in a hardware wallet. Elastos is currently working on Ledger Nano integration for their wallet.
Roadmap and Future Plans
Elastos has had many development milestones since receiving investment from Foxconn in 2013.
In July, they started implementing large-scale applications and projects in the financial big data services and medical insurance industries. Their goal is to have the mining of Elastos Chain and Elastos ID Chain by external nodes open and accessible by the end of 2018.
Their roadmap has been published on their website.