KickICO (KICK) Review – Launch ICOs and Crowdfunding Through the Blockchain
| | |
| --- | --- |
| Name | KickICO |
| Ticker | KICK |
| Total Supply | 560,703,020 |
| Category | Crowdfunding |
| ICO Price | $0.12 |
| Website URL | https://www.kickico.com/ |
| White Paper URL | https://www.kickico.com/whitepaper |
The KickICO platform enables users to pay for the launching of crowdfunding projects, purchase services, and other internal processes and payments within the platform. Those who support pre-ICO, ICO or crowdfunding campaigns on the platform are awarded with KickCoin, the utility token for the KickICO platform. Users receive KickCoin in addition to receiving the tokens they are launching for their project
 The KickICO Vision and Team
With the rise of crowdfunding and accompanying platforms such as Kickstart and Indiegogo, many challenges have also arisen. For one, these platforms do not allow participation in countries from all over the world, but are limited to ones where they have a presence. Secondly, the high commission of 15-20% incurs a significant cost to fundraising, as do the commission the participants pay to donate funds from third-party payment processors. Lastly, many of these platforms have an abundance of failed projects that are uninspiring to both funders and the platform itself. Many of those backing projects end up simply throwing their money to the trash since the projects themselves fail to amount to anything at all.
ICOs in particular have become increasingly challenging as the space is not regulated and many scams have been created. In addition, the market is highly fragmented, with each ICO having to market and publicize his or her own campaign. People often do not know about an ICO until the last moment, and when they do, the lengthy verification process needed and an individual's lack of available cryptocurrency turns more potential investors away.
KickICO was founded with the idea of helping innovators, game developers, entrepreneurs, designers and creators from all over the world, regardless of the socio-economic status, to launch a crowdfunding project.
The KickCoin team is headed by Anti Danilevsky, who has vast experience in crowdfunding projects, as well as in dealing with founders, investors and backers. His vision is to develop a decentralized platform for crowdfunding with a system of community management projects and security audits. Alexander Petrov, the co-founder and current CFO, is an entrepreneur and private investor with wide expertise in the retail trading space. He was an early investor in KickCoin. Andrew Perepelitsa, co-founder and CTO, has over 12 years of experience in IT with a focus on systems development, enterprise application integration and business process automation.
The Russian-based company has a number of notable partners, including Bancor Network, whose smart coin protocol standard is integrated into KickCoin's smart contract. A percentage of the KickCoin funds are reserved in BNT. They also have a partnership with InnMind, a global community that connects investors, experts and industry leaders with startup around the developing world.
How KickICO Works
KickICO is a platform on which participants can launch their ICO, crowdfunding or crowdinvesting projects. In addition, participants can use the platform to contribute to other project ICO, preICO campaigns, or support crowdfunding. Companies wishing to use KickICO must raise at least $50,000.
Companies that decide to list their ICO on the KickICO platform are given access to the platform's community members, offering valuable insight into the market.
The ecosystem of projects that accept KickCoins are known as the KICKONOMY. The more projects involved in the ecosystem, the more popular the KickCoins will become.
KICK Token Price History
KICK had an ICO from August 29th to September 16th 2017 and launched its token at a price of $0.12.  The token price proceeded to drop and reached $0.03 by November.
After a security breach on July 27 of this year, many hacker tokens were destroyed. KickICO has returned all tokens to their holders after verifying each appeal.
As more and more projects participate in the KICKONOMY, the KickCoin token is expected to increase in value. At the moment the token is tending upwards in price.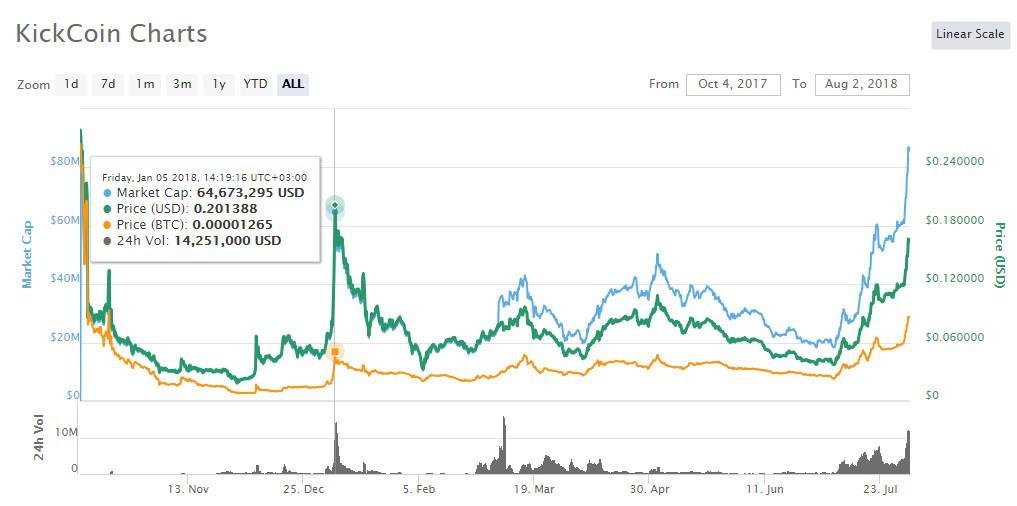 The KickICO Platform
The KickICO platform supports three different types of fundraising campaigns:
ICOs – Participants wishing to launch an ICO campaign will need to pay a fee of 4% of the campaign's tokens. KickICO then exchanges that fee for KickCoins as a reward for supporting the platform. Companies that launch via the KickICO platform grant both campaign tokens in the ICO launch in addition to KickCoins. This reward system will be discontinued after mass adoption of KickCoin. In addition to the fee of 4% of the project's tokens, KickICO also charges a 4% fee in ETH which is set aside for maintaining and developing the platform.
Crowdinvesting – Similar to ICO campaigns, crowdinvesting offer tokens with part ownership of the company, a share of profits, or some additional value the campaign creator decides upon. The blockchain platform allows there to finally be a single platform with which to conduct crowdinvesting campaigns across the world.
Crowdfunding – Instead of traditional crowdfunding platform that offer empty promises in exchange for funding, the KickICO platform provides backers of an idea with KickCoins. In addition, the advertising fees for crowdfunding on the KickICO platform are substantially less.
The KickCoin Token
The KickCoin token is generated as a company launches an ICO or is received by those supporting other ICO projects.
Within the platform, the KickCoin token has a number of uses, including the moderation of campaigns, paying for reviews from selected members of the community, payment for content (i.e. voiceovers, videos, and advertising materials), payment for the services of community advisors, and more. Within the community itself, the KickCoin token can be used to elect community advisors, moderators, vote for a project, be used for penalties (e.g. moderators can fine participants for bad language or behaviour), virtual gifts and just plain fun (e.g. use a different font, frame or other decoration).
The KickCoin tokens were distributed as follows:
How to Purchase KICK
The main exchange for purchasing KICK is on KuCoin, which currently has the largest volume of the currency. KICK can be traded on KuCoin for BTC and ETH. At the moment the current daily volume of KICK traded on KuCoin is over $9 million.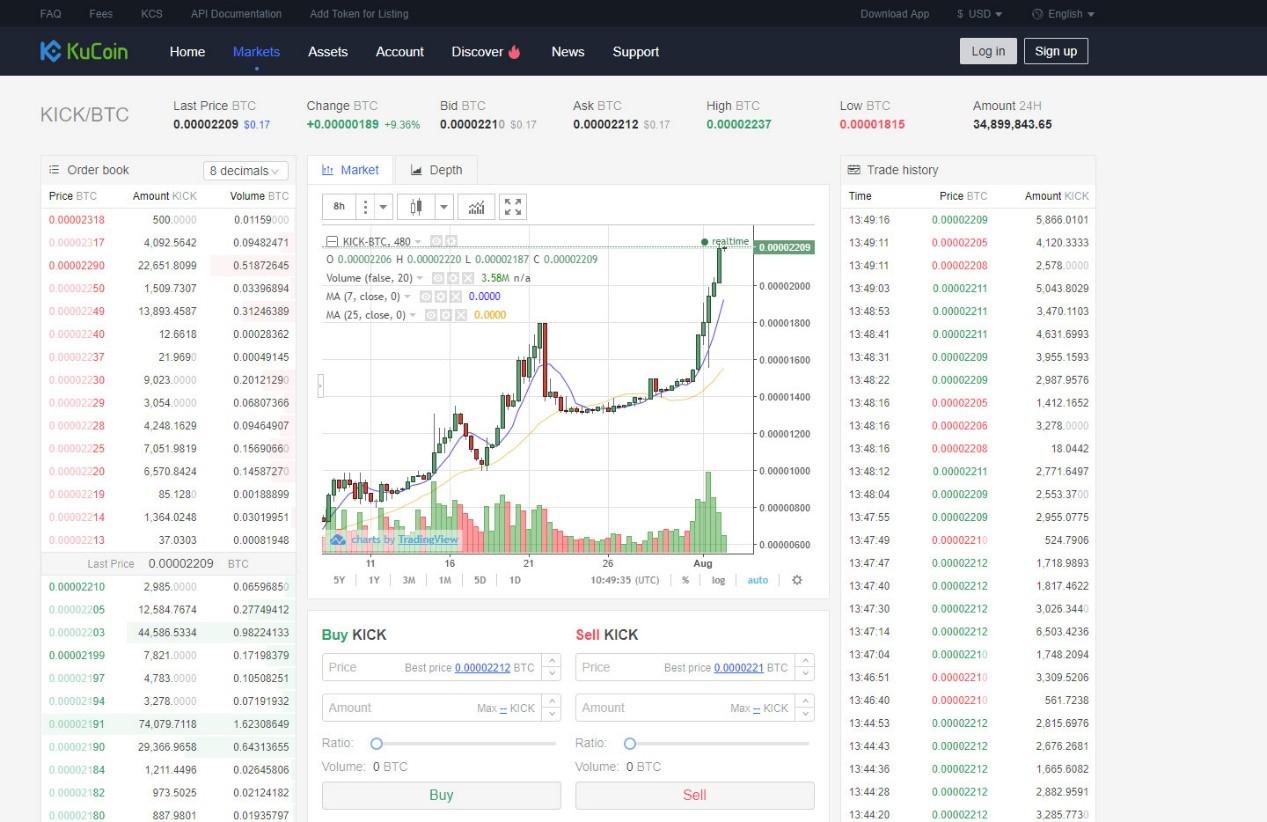 KICK is also available in the following currency pairs:
How to Store KICK
KICK can be stored in any wallet that supports ERC-20 tokens such as Coinomi, MetaMask and MyEtherWallet.
For maximum security, however, you should store your KICK on hardware wallets such as Ledger Nano S.
The KickCoin Token Value
Four factors contribute to the KickCoin token's increase in value:
It provides a variety of services and opportunities within the platform for both the community and partner companies.
As more and more companies and members of the community use the platform, demand will rise, as more and more companies will want to launch their campaigns using KickICO.  Some campaigns may even create their tokens in the KickICO token constructor. To support these campaigns, more community market services will be implemented on the platform, also creating more demand for KickCoin.
Successful campaigns will promote the acceptance of KickCoin. In contrast with campaigns that have no choice but to integrate into the KICKONOMY to raise funds, businesses will see the success of other business and integrate KickCoin into their ecosystem automatically. Recently, RBK Games platform did this.
Tokens can be turned into smart tokens with Bancor protocol. This "smartenization" is particularly valuable for small companies and those that will never be on major exchanges, allowing them to create their own tokens and back it with liquid funds.
The KICKONOMY Foundation functions as a reserve. This fund receives 4% of tokens that will create an index for the foundation portfolio. This index will rise based on the market capitalization of the portfolio currency, and as a result the value of KickCoin, backed by this index, will increase.
Roadmap and Achievements of KickICO
KickICO has a detailed roadmap outlined in their whitepaper. Significant goals for 2018 included the launch of the reward system, gamification mechanics loyalty program, the launch of the crowdfunding blockchain fund, and mobile app development for Android and iOS.
For 2019, it expects to integrate the KickCoin payment system API into independent platforms or apps and integrate the platform into a variety of smart devices.
KickICO has over 50,000 registered users and 35,000 active members in their social networks. The token is traded on 10 cryptocurrency exchanges and hit its $10 daily turnover milestone in March 2018.
Their current goal is to gain enough users to test and improve the product.