Komodo (KMD) Review: A Cryptocurrency, DEX and ICO Platform
| | |
| --- | --- |
| Name | Komodo |
| Ticker | KMD |
| Total Supply | 200,000,000 |
| Initial Price | $0.11 |
| Category | Currency |
| Website URL | https://komodoplatform.com/ |
| White Paper URL | https://komodoplatform.com/wp-content/uploads/2018/06/Komodo-Whitepaper-June-3.pdf |
Komodo is a cryptocurrency which is a fork of ZCash, and its platform and ecosystem is based on the same protocol. Its blockchain platform utilizes the Komodo cryptocurrency to execute its anonymous and private transactions. The platform includes a blockchain, the KMD coin, a decentralized exchange, and a system with which to launch decentralized ICOs.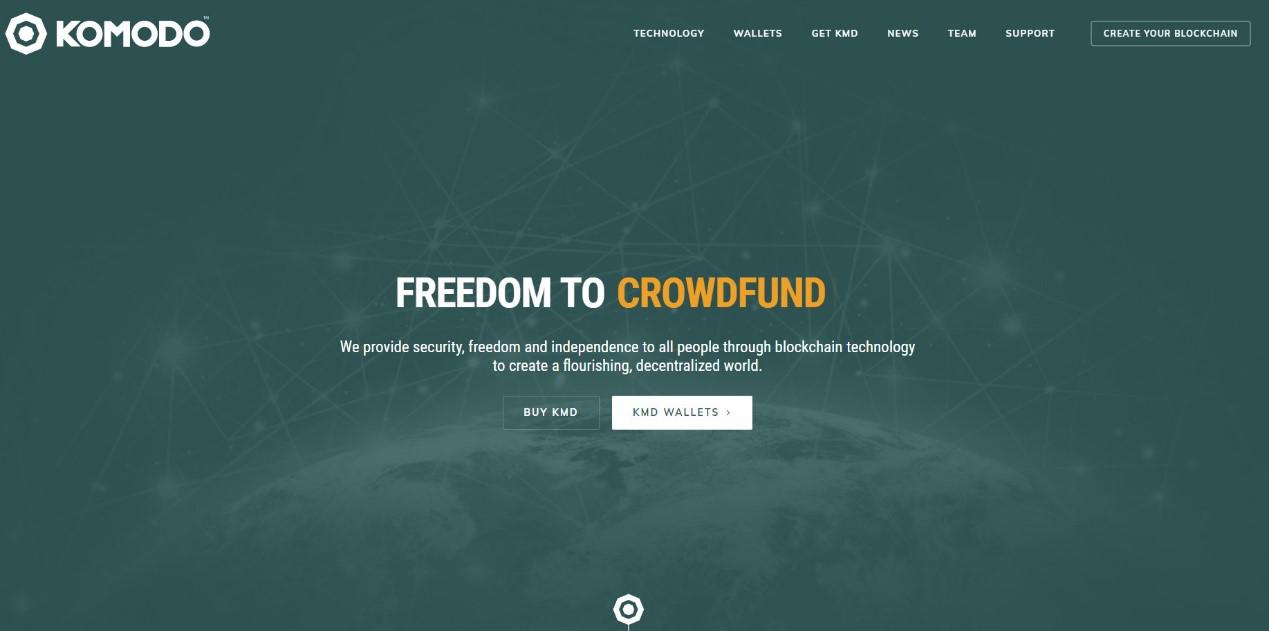 The Idea Behind Komodo
Komodo strongly believes, first and foremost, that people should be free. This freedom includes the ability to make one's own decisions as well as receive both benefits and consequences of those decisions.
In line with this philosophy, Komodo's team has created a peer-to-peer cryptocurrency and ecosystem that focuses on a decentralized exchange that both eliminates third-parties while at the same time serving both the investor and the blockchain entrepreneur. Investors can trade cryptocurrencies without the need for registration, escrow service or intermediary coin. Entrepreneurs can utilize the Komodo exchange to feature their coin on the exchange. The platform includes powerful privacy features that allow both the investor to trade goods and services as well as the entrepreneur to release their product and crowdsource funds from audiences that wish to remain private.
Much of Komodo's team, including its founder, is anonymous. Komodo was founded by James `jl777c' Lee, who in 2016 started working on a project called SuperNET on Nxt, which was one of the very first blockchains in the world at the time. After implementing many adjustments to the code without consulting other projects built on the Nxt platform, many hours of work were needed to repair the damage. At this point, `jl777c' decided to create an open, joint, cross-chain atomic platform at a time long before the terms such as "interoperability" and "atomic swaps" were used in the world of cryptocurrency. The result of the new code showed `jl777c' the limitations of the single-blockchain platform and he and his team set out to develop a blockchain that focused on independence, autonomy and collaboration.
Komodo is an evolution of a similar project called BitcoinDark, but it has functionally moved to the Komodo platform. BitcoinDark's idea was to improve upon Bitcoin's privacy failings and introduced a pegging system that pegged the coin to other securities by burning the coin. This is a feature similar expected to be in Komodo's platform in the future.
Recently, Komodo was ranked by the Chinese Ministry of Industry and Information Technology as the world's best blockchain after Ethereum and EOS.
The Komodo Platform
The Komodo platform is able to provide anonymity to users through zero knowledge proofs and security through a concept called Delayed Proof of Work (dPoW).
Delayed Proof of Work security builds on the idea of Proof of Work technology (PoW). The result is a security layer that creates backups of your blockchain's data and notarizes it to Bitcoin's blockchain, so that even the smallest blockchains end up having Bitcoin-level security. Attackers wanting to change the transactions after the fact are doomed since he or she would first have to alter the Bitcoin blockchain, which is impossible.
In addition, there are five additional features of the platform:
Komodo Core – Komodo's native cryptocurrency, KMD. A total of 200 million coins were created, but only 100 were pre-mined and distributed in the ICO. Ten million were set aside for future development while the remaining 90 were distributed to investors.
Assetchains – Tokenization and white-glove blockchain solutions.
Jumblr – A zero knowledge coin agnostic anonymizer. It provides total anonymity and a low fee of 0.3% compared with decentralized mixers.
BarterDEX – A decentralized exchange that performs atomic swaps without the need for a proxy token or pegged assets.
Agama – A multi-wallet for all cryptocurrencies available in multiple desktop formats. It uses Jumbler to enhance privacy.
BarterDex: The World's Leading Atomic Swap Exchange
BarterDEX is a secure and universally decentralized exchange powered by atomic swaps. It is open source and will allow trading for any coin. BarterDEX is based on the NXT Asset Exchange which featured the exchange of cryptocurrency by using proxy tokens which would represent external cryptocurrencies. However, this type of protocol was insufficiently limited to compete with centralized exchanges due to slow trading processes. In addition, the storage center was distributed yet allowed for the same risky behavior seen in centralized exchanges. Lastly, trading involved multiple gateways.
A decentralized exchange, BarterDEX was sought as an alternative to solve these limitations. BarterDEX combines three elements: order matching, trade clearing and liquidity provision, integrating them into a system that allows using to make transactions using an atomic cross-chain protocol. It also adds a layer of privacy during this process so that participants can perform an atomic swap without IP contact.
BarterDEX is currently in the BETA phase of development and can be downloaded via the Komodo website. In March they announced that the exchange supported the trading of 95% of all coins in existence. They have currently powered more than 100,000 atomic swaps and over 100 types of cryptocurrencies.
Decentralized Initial Coin Offerings (DICOs)
BlocNation launched the first decentralized ICO on April 17 2018 using Komodo's technology. The idea is to make the ICO process safer, more secure, and free of vulnerabilities that current centralized ICOs have that include whales, hackers and human error that corrupt the ICO process. The DICO model is provided through the BarterDex and atomic swap technologies which achieve complete anonymity and decentralized distribution of coins. The selection process for those companies wishing to launch a decentralized ICO is extensive and only one can be done at a time.
KMD Price History
Komodo launched in February of 2017 at an initial price of $0.11. The coin briefly shot up to $12.89 in late December.
How to Purchase KMD
The main option for purchasing KMD is through Binance, as well as the exchange where it has the highest volume of trading at almost $200K. It is available for purchasing with BTC and ETH.
KMD is also available on the following exchanges:
How to Store KMD
KMD can be stored online in the Agama Wallet. It is available in desktop versions for Windows, MacOS and Linux from the Komodo website.
For maximum security, however, offline paper wallets are the safest method of storing your cryptocurrency. You can download the offline paper wallet on the site as well.
Roadmap and Future Plans
Komodo has reached an impressive number of milestones in a short period of time. After launching in February of 2016, they launched their mainnet less than a year later in January, complete with independent assetchains and delayed Proof of Work Security. By July 2017, they were able to make atomic swamps publicly available on Komodo's DEX.
Komodo has an extensive development roadmap available on their website.
Their plans include developing the port of BarterDEX GUI to a new technology for higher performance and creating an independent decentralized ICO platform. The long-term goal is to have Komodo's contract and mobile DEX ready by the end of 2019.