Power Ledger is an energy-trading platform that allows consumers with solar panels on their roof to sell their excess electricity to their neighbors. In the past, the ability to sell access solar power was only possible through large centralized companies. Power Ledger enables direct purchase and selling of energy through their platform at prices below the market rate. The project is built on top of Ethereum, allowing it access to smart contracts and oracle services (services which give history and receive financial incentive to report accurate information).
Article Summary
The Idea and the Team Behind POWR
POWR Partnerships
The POWR Price History
The POWR Technology
The POWR Network
Future Potential of POWR and Competition
How to Purchase and Store POWR
Roadmap and Future Updates

The Idea and the Team Behind POWR
Power Ledger was developed with the concept that at some point self-supply of electricity will be cheaper and more effective than relying on generating new energy that is also low-cost, reliable and clean. The alternative is an energy system of the future that is a decentralized and "trustless" trading platform. The idea behind the platform is a replication of the monetization system used with Uber and AirBnb.
The Power Ledger team includes five different co-founders along with world-renowned venture capitalist Bill Tai.
Dr. Jemma Green, current co-founder and head of external relations, risk management and leadership development for Power Ledger, has a doctorate in Disruptive Innovation from Curtain University. She is also a research fellow at the university's Sustainability Policy Institute, where she is concentrating on innovation, energy, storage and blockchain.
David Martin, co-founder and managing director of Power Ledger has vast experience in the electricity industry, with executive position in two state-owned electric companies. His goal now is to encourage mass adoption of Power Ledger's system and encourage the regulatory reforms needed for mass adoption.
Dr. Gov van Ek, director and co-founder of Power Ledger, also has vast experience in company management. He also has wide experience in blockchain development, having co-founded Ledger Assets, a leading Australian blockchain development firm. He has a PhD in Total Technology and is an expert in computer interface design in addition to artificial intelligence.
John Bulich, co-founder and technical director of Power Ledger, heads the company's strategy. He is also concurrently the co-founder of Ledger Assets.
Jenni Conroy is the co-founder and director of the company. With more than 30 years of experience in the energy industry, she heads regulatory and business services for Power Ledger. She is also a consultant in the energy sector.
POWR Partnerships
Power Ledger has also entered into agreements with many big international energy companies. Some of the most prominent include ones with Vector, the top provider of electricity and gas metering in Auckalnd, New Zealand; Western Power, the state-owned power company in Western Australia; and Nest Energy, a company responsible for commercial and industrial solar installations.
To date, they have succeeded in bringing their marketplace to Europe with the agreement of the Liechtenstein Institute for Strategic Development to be the first to use the platform in 2019. They also have a working prototype in the White Gum Valley neighbourhood in Western Australia, where they are working with Western Power, the state's main power company as well as Curtin University.
It has also targeted the Asian marketplace. At the end of the year it reached an agreement with Thailand's renewable energy developer, BCPG, to bring its technology to Thailand.
India has followed step with IT giant Tech Mahindra also agreeing to implement the technology. Its goal in India is to set up microgrids to put developing communities on the power grid.
Recently, they have also announced a partnership with Helpanswers to bring Power Ledger to the US.
The POWR Price History
Since the launch of the platform in November, the price of POWR rose steadily on average, peaking at $1.62 in early January. This price surge followed an announcement of a deal with Bangkok in which several complexes agreed to work with Power Ledger.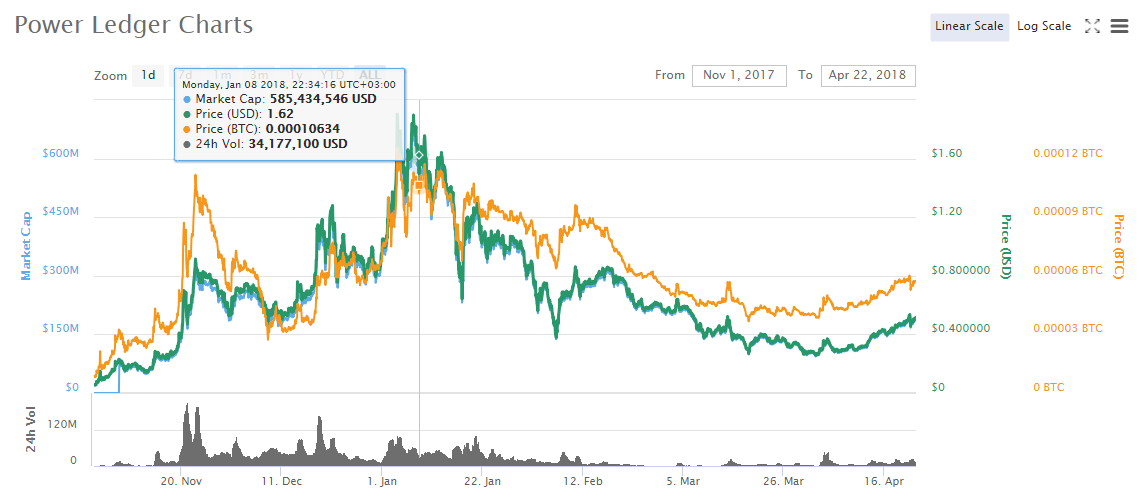 It has since fallen more than 80% but may be affected by announcements in the future of partnerships or new technological developments. Many consider the coin to be a long-term HODL.
The POWR Technology
Power Ledger is built on top of Ethereum, and within the project are three additional layers: the Power Ledger Core; Ecochain Services; and Power Ledger applications.
The Power Ledger Core is the public smart contracts layer. It provides trustless and open sourced implementation of the POWR token Ecosystem.
The Ecochain layer consists of its own private blockchain that can be used in the power industry. It has been tested in the energy markets in high-load environments in 2016 and 2017. Among the services it includes are Sparkz token creation and management, storage and verification of smart meter readings, trading related data and a payment processor in traditional (fiat) currency.
The Power Ledger application layers include the following applications:
P2P Trading – gives retailers the option for consumers to trade electricity with one another and receive payment in real-time from an automated and trustless reconciliation and settlement system.
NEO-retailer – provides NEO-retailers with smart demand and supply management, including remuneration and payment settlements in near real-time.
Microgrid/Embedded Network Operator/Strata – enables electricity metering, big data acquisition, rapid micro transactions and grid management at a granular scale.
Wholesale Market Settlement – offers rapid low-cost and transparent dispatch optimization and management, data aggregation, reconciliation and settlement for wholesale energy marketplaces.
Autonomous Asset (AA) Management – provides shared ownership of renewable energy assets along with trading of renewable asset ownership.
Distributed Market Management – provides optimized metering of data and the collection of big data, access and dispatch of assets, rapid transaction settlement, network load balancing, frequency management, demand side response and load management.
Electric Vehicles – facilitates real-time metering of data, collection of data, user identification and rapid transaction settlement.
Power Port – allows virtual pipeline and roadside assistance via the platform and can provide a mobile storage discharge facility maintaining energy supplies to predominantly self-sufficient energy consumers.
Carbon trading – offers smart contracts for carbon traders to assure digital transactions across organizations, including credibility of assets, transparency and auditability. Supports surrendering of carbon credits to regulatory authorities.
More applications will be developed in the future.
The POWR Network
The Power Ledger platform gives consumers the opportunity to transact with energy markets around the globe as well as the ability to adapt to any future regulatory changes. The Power Ledger platform consists of two blockchain layers: the Power Ledger Token (POWR) and Sparkz. The tokens have separate functions.
The POWR tokens allow those using the application (retailers, property managers, utilities, etc) and participants use of the platform, whereas Sparkz tokens are issued against POWR tokens and used by those using the application to onboard their customers. Sparkz are purposefully designed to be worth a unit of electricity in various markets all over the world.

How to Purchase POWR
You can purchase POWR coin through the Binance exchange with Bitcoin, Ether or Binance. Binance currently has the largest volume of POWR trading and allows you to exchange POWR with Bitcoin, Ether and Binance currencies.
After registering to Binance you can purchase POWR either with a "limit" order, where you manually set the price at which you want to buy POWR, or a "market" buy, where you purchase POWR at the best price available. Another option is a stop-limit, which is an order to buy or sell a coin once the price reaches a specified price.
Read our Guide How to use Binance Exchange
You can also purchase POWR on the following exchanges:
How to Store POWR
You can store Power Ledger in a wallet that has ERC20 support, such as Coinomi, MetaMask or MyEtherWallet, but for maximum security consider hardware wallets such as Ledger Nano S and Trezor.
Roadmap and Future Updates
In Q3 of 2017 the platform incentivized early users of the platform with their Token Generation Event, Australia's first ICO event. It raised a total of $34 million with the sale of 350 million coins.
By the end of 2017 the company focused on development of its applications, and 2018 has brought a focus on incentivizing early Application Hosts to use and contribute to the platform. In addition, Power Ledger will transition itself to a Consortium Ethereum network with no fees.
As the year progresses, Power Ledger will incentivize POWR token holders to become co-owners and beneficiaries of renewable assets. It will continue to develop more applications and target Application Hosts.