Blockfolio vs Delta Review: Which is the Best Cryptocurrency Portfolio Tracker?
You've bought some Bitcoin, you've dabbled in Ethereum, you've traded for TRON, and you like the look of Cardano. You've caught the crypto bug and have a small – but growing – portfolio of coins. What's the best way to keep track of their ups and downs, get alerts on potential trades, and see how much your virtual assets are worth?
There's little dispute that the two big players in the mobile crypto portfolio field are Blockfolio and Delta. They're both excellent, reliable, and have been around long enough to offer a variety of options. But which is better?
Article Summary
Installation
Both Blockfolio and Delta are available for both Android and iOS devices (from blockfolio.com and getdelta.io, respectively). Installation is simple, through Google Play or the App Store.

Delta also offers a desktop version (for Windows, Mac, and Linux), which is a huge plus for active crypto-traders. You still need the mobile version, as the desktop installation requires a QR scan to initialize.
Portfolio Setup
Both apps offer an extensive list of exchanges and coin pairs. Delta's list is bigger than Blockfolio's – in essence, if an asset is on Coinmarketcap, it's on Delta. Most users will find everything they need on both (though you will notice Tether is missing from these Blockfolio screenshots, as the app does not include USDT/BTC on Bittrex).
Blockfolio uses a coin-by-coin setup process. Unless you select Watch Only, the app also asks your buying or selling price, amount traded, and the date of the trade.
It's a long, arduous process if you have multiple holdings across several exchanges and in different coin pairs. The positive for serious traders is that everything is on one page: once you select the coin, there's no more switching between screens to enter the details.
Delta offers a similar coin-by-coin approach, though the process is friendlier for new users. The app switches between screens for exchange selection and other options, making things slower but more accessible.
Delta doesn't have Blockfolio's Watch Only option. Instead, the app maintains an additional watch list (accessed from the "open eye" icon at the bottom of the main screen), keeping your portfolio and your potential purchases completely separate.
Delta allows you to connect exchange accounts to the app, for easier transaction history entry. It only accepts read-access API keys, to protect your exchange wallets from tampering. All the major exchanges are listed, including Coinbase, GDAX, Binance, Bitfinex, Bittrex, HitBTC, and others. The free version connects to two exchanges; the Pro version has no limit.
Portfolio Display
Blockfolio uses a simple tabular layout for most screens, fitting more data into a small space for quick viewing. However, it pays the price in looking outdated: Delta's smoother, less compact design is far more inviting for new crypto users.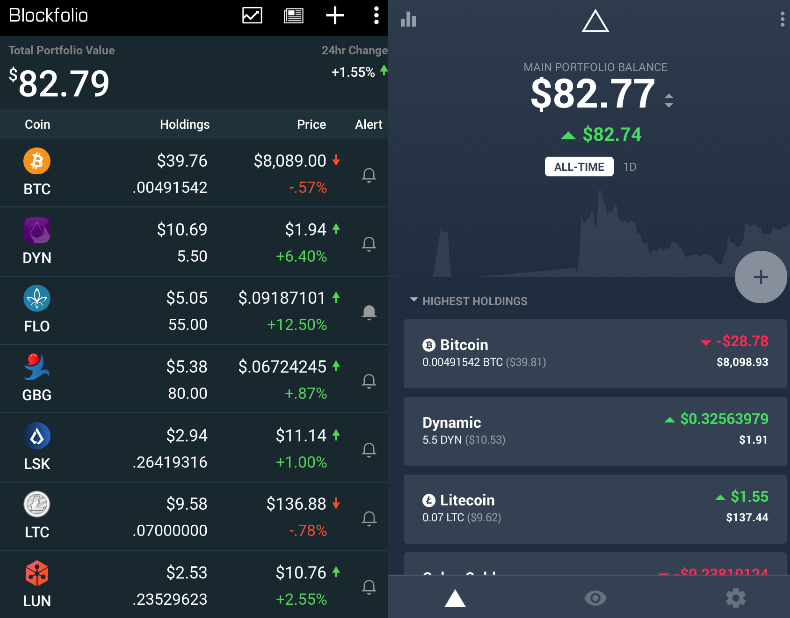 Conversely, Blockfolio's charting is superior to Delta's offering. It's Blockfolio's standout point, in fact, and is considered the best in any currently available mobile portfolio app.
Blockfolio's charts are easy to read and have filters for multiple time periods (from an hour to a week), plus 24-hour stats and your current holdings below the graph.
Delta's charting is perfectly acceptable for amateur and occasional traders, but doesn't offer the same kind of clarity, accuracy, or control. It shows your holdings and offers extra 6-month and 1-year charting options (and data from Coinmarketcap), but serious traders will find that the app's graphs lack detail.
Trading
Whether you use a portfolio app to track long-term holds or for day-trading, entering asset purchases and sales is a critical process. Ease of use in this area that sets the two apps apart.
Blockfolio's buy/sell screen is the same one you use to add coins. Using it is – at first glance – simpler than Delta's, as it offers everything on one page, with lists popping up from the bottom of the screen when required.
Blockfolio needs the trading pair and exchange for price tracking, then requires a price, amount, and date of trade. You can enter notes about the trade and tell the app to apply the purchase or sale to the appropriate balance (i.e. if you buy 0.1 BTC of a coin, the app reduces your BTC balance by 0.1).
Delta's trading screen (also used to add a new coin) requires the same information. The app demands a trading time as well as date, and offers Transfer transactions for movements between wallets, exchanges, and so on. Delta can also apply trades to existing coin balances.
So what's the difference? Delta tracks trading fees – a vital difference.
Imagine you're buying a couple of LSK with BTC. On Delta, you enter the details of the trade – 2 LSK at 0.00184770 BTC per coin – toggle Deduct from BTC holdings, and enter the fee (either in coins or as a percentage). Let's say the fee is 355 satoshis. Total deduction: 0.00369895 BTC.
But if you enter that same transaction on Blockfolio, there's no way to enter the fees. You must enter the LSK buy transaction, then add a fake Sell transaction to your BTC balance for the fees. The app also has an annoying habit of entering "Sell for undefined" in the transaction notes, instead of recording what the sale was actually for (in this case LSK). You must edit that, as well.
Notifications
Notifications are another critical app feature for traders, especially those who hold another job or trade occasionally. Receiving notifications when your ceiling or floor prices hit is vital for informed trading and taking advantage of market movements. Both apps offer notifications for significant events.
Blockfolio's alerts are visible and accessible from the main portfolio screen. Simply click the bell icon and enter the details.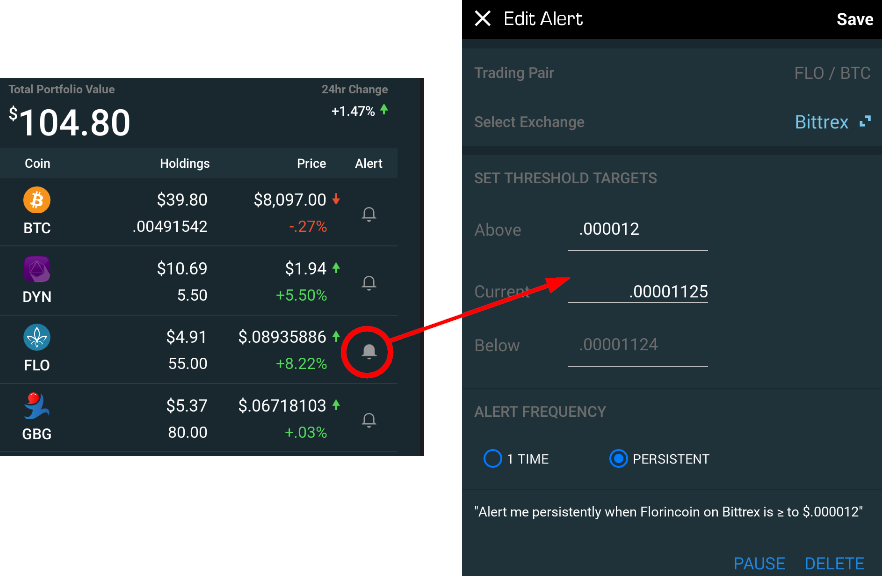 Delta's alerts are a level deeper. To access notifications for a coin, you must select the coin, then the Alerts tab, then add your notification criteria. Delta's alerts do not show on the main portfolio screen.
Delta has system settings for additional notifications. By default, the app sends an end-of-day portfolio update and alerts you of significant price changes, both for your whole portfolio and individual coins.
Blockfolio's alerts are significantly better than Delta's because they work. Some users report that Delta's notifications don't work or that, if they do, they have no associated sound or vibration, making them virtually useless as alerts. Delta plans to adjust this functionality in future.
Extras
Both apps offer nice extras, such as light or dark themes, increased font size, percentage holdings, and base currency choices.
Blockfolio's biggest extra is user-managed news integration from a variety of major crypto websites. Not only is this essential for traders, it's great for amateurs who wonder why their portfolio just bombed or skyrocketed. The app also has a useful "hide balances" option for privacy and integrates with ES File Explorer to send data.
Delta has neat "hide" options for zero and small holdings, to keep your portfolio clean (especially on Binance, where there's so much dust). The paid Pro version also allows multiple portfolios – a must-have for serious traders – and extras such as beta access to exchange imports currently in testing (e.g. Cryptopia and HitBTC).
So Which Portfolio is Better?
Both Blockfolio and Delta have earned their place as market leaders in mobile crypto portfolio management by being the best available. Blockfolio held the title for a long time but Delta's catching up.
Pros
Blockfolio's pros
Delta's pros
• Excellent charting
• Working alerts
• More compact portfolio page
• Adjustable crypto news

• Exchange account integration
• Virtually every crypto asset
• Friendlier interface
• Desktop version

Cons
Blockfolio's cons
Delta's cons
• Some trading pairs missing
• Missing transaction fees

• Fewer features on portfolio page
• Notification issues

Delta's exchange integration and friendly interface make it more attractive for new crypto users, while its inclusion of transaction fees and the desktop version are perfect for serious traders.
Blockfolio's crypto news offer and simple layout are a great way for new users to immerse themselves in crypto, while the exceptional charts and easy notifications are key tools for traders.
From a user's perspective, both are excellent. Your choice will come down to how you want to use the app and which features are most important to you.