Bitcoin's popularity continues to soar, along with the opportunities it offers retail investors. Even so, purchasing bitcoin can be difficult for many traders, as many exchanges and other websites have drawn-out and complicated procedures or limitations as to how bitcoin can be purchased. However, many exchanges have now found a way to provide their traders with an easy solution, enabling clients to purchase bitcoin directly with a credit or debit card.
With the price of bitcoin still numbering in the thousands of dollars, the possibility of generating investment returns continues to appeal to many prospective investors. Using a credit card can help you enter the market and gain exposure to one of the more novel asset classes in recent memory, but you should always be careful. These are some of the most popular and well-reviewed websites where you can purchase bitcoin with a debit or credit card.
Coinbase
Regions Supported: 33 countries in North America, Europe, Asia, and Australia
Requires Identity Verification: Yes
Number of Coins Listed: 4
2-Factor Authentication: Yes
Credit Card Deposit Fee: 3.5%
Credit Card Withdrawal Fee: No withdrawals to CC
Daily/Monthly Buy Limit: $7,500/$100,000
With a reputation for being one of the most regulator-friendly and trusted cryptocurrency exchanges in several countries, Coinbase delivers a combination of speedy services and reliability when buying bitcoin with your credit or debit card. The company's two platforms—Coinbase Pro and Coinbase.com—offer differing degrees of access to the more popular cryptocurrencies. On Coinbase.com, retail traders who have been verified can purchase Bitcoin, along with a few of the most popular cryptocurrencies, using a credit or debit card. However, it's important to note that this functionality is not available to new users, as the company recently changed its policies on the matter. Even so, users who were verified prior to the rules changes can still use their cards to make purchases. If you are looking to hold large volumes, you can also take advantage of the company's Coinbase Custody platform.
The first step towards purchasing Bitcoin through Coinbase is a simple email verification, and a code sent to your mobile phone. After you've input your details and completed your registration, you'll be able to access your dashboard and keep track of the cryptocurrencies Coinbase lists (Bitcoin, Bitcoin Cash, Ethereum, and Litecoin), as well as your portfolio and transaction history.
To purchase Bitcoin, simply head to the Buy/Sell menu, which includes the different options for payment. Once you select Bitcoin from the menu, you can choose to pay with any of the cards you have linked and verified through Coinbase. While it's not an instant purchase, it is close, with minimal waiting times thanks to credit card payments.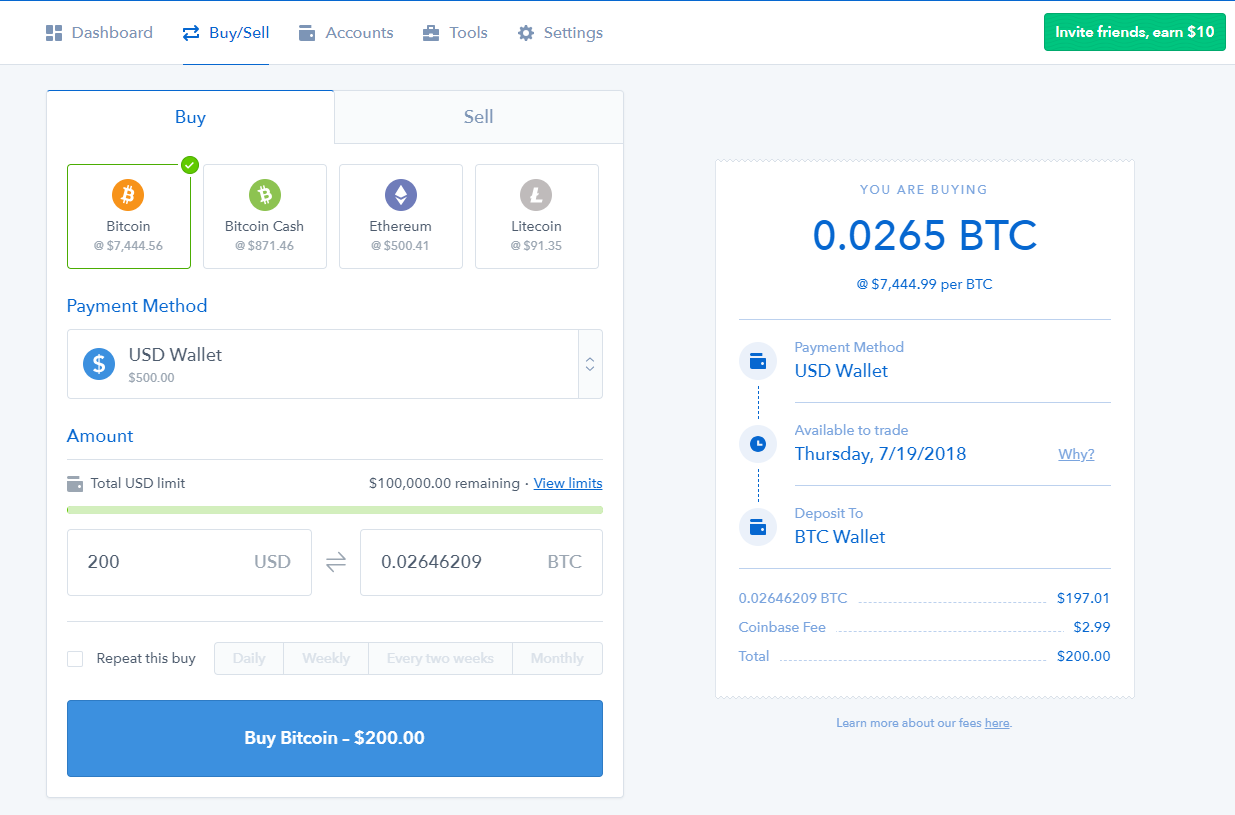 If you haven't verified your credit or debit card before purchasing, you'll be prompted to complete the process. Once you've filled in your card details, Coinbase will make three small charges in fiat (roughly $1) which must be confirmed. At the verification screen, you will have to enter the exact amounts charged to complete the process.
With your card in the system, the next step is to choose Bitcoin from the Buy/Sell screen, select your card, and choose the amount to purchase. The exchange does place a limit on both purchases ($7,500 weekly) and withdrawals ($100,000 weekly), but it places few other restrictions on how you can purchase, move, or trade your assets. You can also choose to set up automated purchases at daily, weekly, monthly, or bi-monthly intervals. Coinbase does charge a fee for any purchases, and they are usually around 3.50%.
CEX.io
Regions Supported: All countries, sans certain ones in the Middle East and Africa
Requires Identity Verification: No
Number of Coins Listed: 8
2-Factor Authentication: Yes
Credit Card Deposit Fee: 3.50%
Credit Card Withdrawal Fee: Up to $3.50
Daily/Monthly Buy Limit: $1,000/$3,000
The London-based CEX.IO accepts customers and traders from nearly every country on earth. Even so, some areas (like the Middle East and Africa) may have to resort to lengthier payment options, as credit card purchases are restricted in the regions. This is not a blanket ban, but several countries such as Qatar, Saudi Arabia, Yemen, Oman, Nigeria, Iraq, and even Iceland, which is in Europe, are affected. In the US, CEX.IO is only available in 24 states. Regardless, CEX.IO has a formidable reputation for security and it also offers a clean and easy-to-use interface that helps users get acclimated while providing advanced trading tools.
Signing up for CEX.IO requires a valid email, or an active Google or Facebook account. Once verified, CEX.IO sends a code via SMS to your phone to finish the registration process. The company also helps users bolster their account security with 2-factor authentication, though it's not required (the company highly recommends activating it, however).
To be able to use your credit or debit card, you must also verify it first, a process that takes between two to three days to complete. Once ready, you can visit CEX.IO's buy/sell page and choose the BTC option from the drop-down menu (as well as your fiat currency for payment) before selecting how much you would like to purchase.
CEX.IO does place some restrictions on purchases, with $1,000 for daily purchases and $3,000 for Basic members. Verified accounts, however, can make unlimited deposits and withdrawals. The company also offers standard fees for the industry, with a processing fee of 3.50% for deposits and up to $3.80 on withdrawals, depending on the fiat currency used. Fortunately, CEX.IO offers payments in a variety of fiat currencies, including Dollars, Rubles, Euros, and British Pounds. The company also allows for purchases on both Mastercard and Visa.
LocalBitcoins
Regions Supported: 248 countries worldwide
Requires Identity Verification: No
Number of Coins Listed: 1
2-Factor Authentication: No
Credit Card Deposit Fee: None
Credit Card Withdrawal Fee: No withdrawals to CC
Daily/Monthly Buy Limit: None
Unlike the previous options, LocalBitcoins is not an exchange, but rather a P2P network where users can buy and sell Bitcoin easily. The company, based out of Finland, is simply an intermediary for users to trade tokens, so the company itself does not hold any coins. Another unique feature LocalBitcoins offers is that the platform does not sell coins at their market value, but rather at the price other users are willing to part with their Bitcoin. Users can both sell and purchase coins, and LocalBitcoins operates as an arbiter in case of any disputes. More importantly, funds are held in escrow until users and transactions can be verified, adding to the website's security. With coverage available in over 248, LocalBitcoins presents one of the more effective ways to buy Bitcoins with a credit card.
LocalBitcoins also has one of the easier registration processes as it's not an exchange and so not subject to many of the same regulations. After entering basic details including your name and email, along with a user name and password, you verify your account with an email link, and are ready to start using the platform.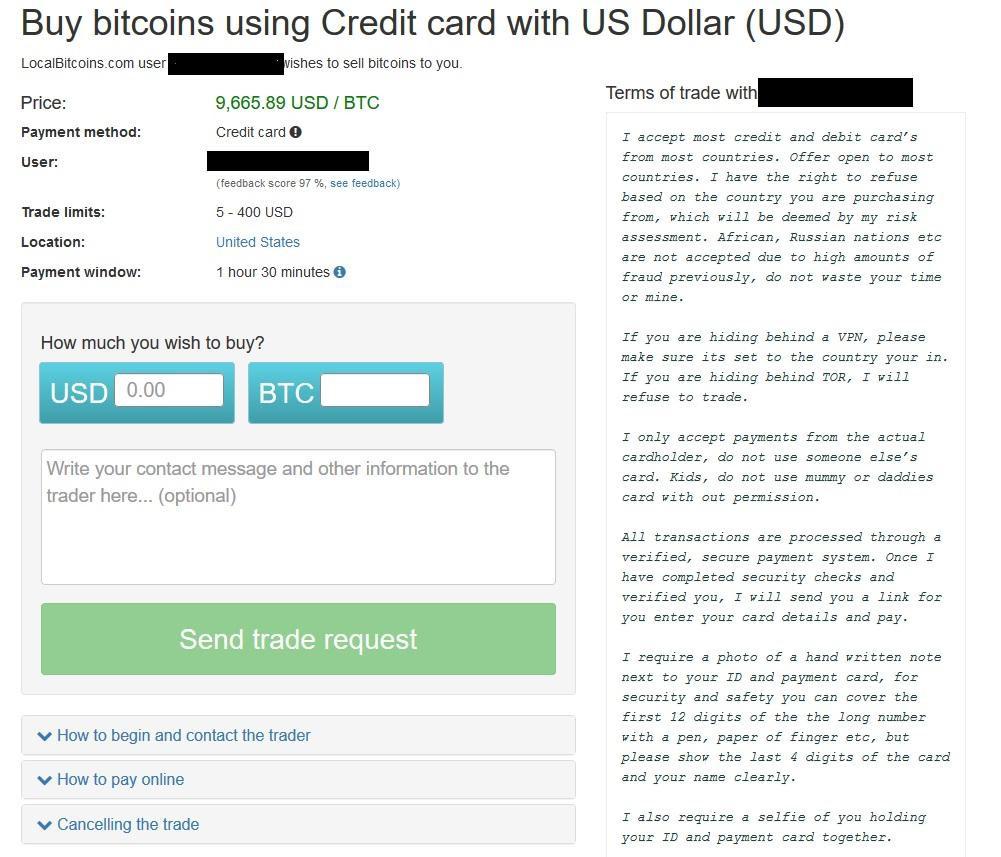 Making purchases through LocalBitcoins involves some searching to find your preferred price point as well as some luck. To make a quick purchase, you can simply scan through the existing listings and negotiate directly with the person who made the posting. Alternatively, you can do a quick search using the website's quick buy tool bar, which lets you list the amount, fiat currency, country, and payment method. Once you choose the offer to complete, you make a request to the trader for the specific amount of Bitcoin you would like to purchase, and if approved, you will be sent specific instructions on how to pay. To receive your coins, you must complete the payment request and notify the seller that the funds have been transferred, thus releasing your Bitcoin.
The system is not as efficient as those on more established exchanges, but it does offer users who may not be approved or fully verified to gain exposure to cryptocurrencies.  The company also doesn't charge fees for buying and selling coins though they do include a 1.00% fee for advertisers when a trade is completed. This also doesn't count any specific fees your credit card provider may charge.
Bitit
Regions Supported: All countries
Requires Identity Verification: To remove purchase caps
Number of Coins Listed: 15
2-Factor Authentication: Yes
Credit Card Deposit Fee: 90%
Credit Card Withdrawal Fee: No withdrawals to CC
Daily/Monthly Buy Limit: $7,500/$100,000
A smaller and newer entrant into the field, France-based Bitit offers a quick and easy approach to purchase Bitcoin and other cryptocurrencies with a credit or debit card. The company accepts Visa and Mastercard as well as American Express and Maestro. One of the useful features Bitit provides is the ability to purchase cryptocurrencies in a variety of fiat currencies including the most popular ones (USD, EUR, GBP). The company is also regulated in France and offers real-time transactions to reduce traders' exposure to market volatility. In addition, users can sign up from anywhere in the world, without any restrictions.
The company advertises a quick and painless registration process, and they largely deliver. Getting started takes a few seconds and includes filling out a quick form before choosing a user name and password. Once registered, you can start trading and purchasing Bitcoin immediately, or you can complete the verification process to remove any caps on purchases.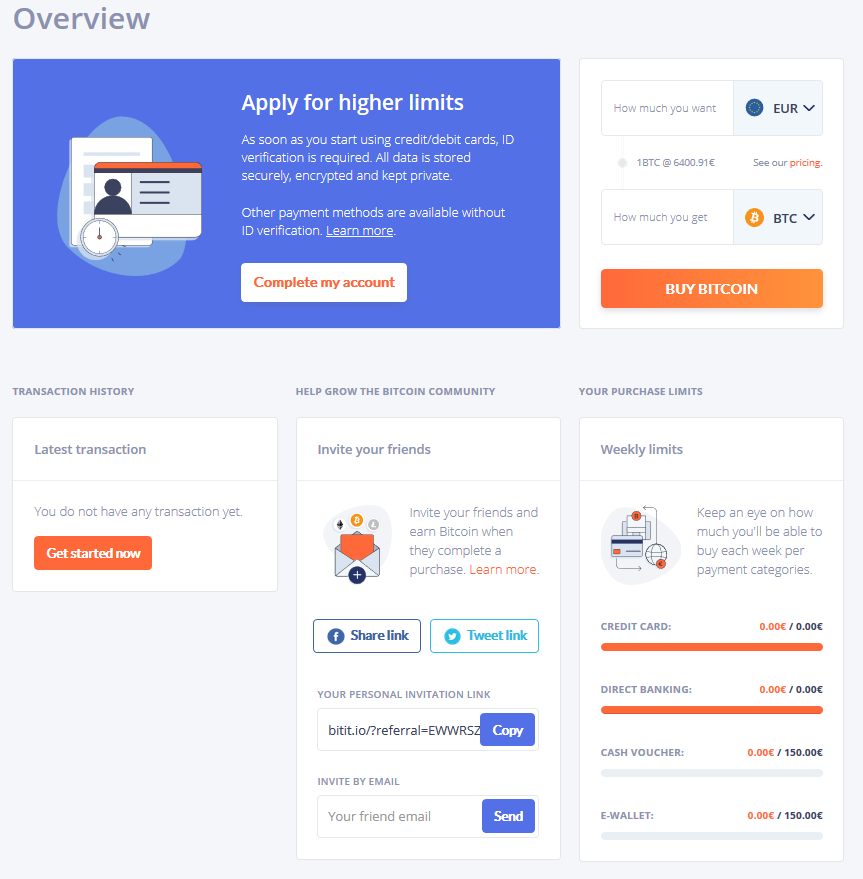 To make a purchase, simply click "Buy" and pick the cryptocurrency you wish to purchase. After selecting the payment method and choosing your amount in fiat, enter the wallet address where you wish to deposit your funds in. Overall, the process takes a few minutes before you can start using your coins as you wish.
Bitit does have some of the higher transaction fees of the companies reviewed though not by much. Transactions made with a credit card have a 6.90% fee attached, not including any fees on the processor's side.
Buy Bitcoins Easily
It's not hard to enter the cryptocurrency market, or even be part of the bitcoin revolution. These platforms represent some of the most straightforward methods for easily purchasing your crypto assets with a credit card to start participating instantly.