5 Ways to Buy Bitcoin and Ethereum Anonymously With No ID
Bitcoin and the many cryptocurrencies it inspired offer the promise of a completely decentralized and anonymous world. In practice, however, the idea is diminished by the sometimes-intense verification and identity requirements enlisted by exchanges and other cryptocurrency platforms. For someone who values their privacy, cryptocurrencies offer a mixed bag.
On one hand, it's difficult to know who actually holds a coin. On the other, even the most privacy-oriented firms can't guarantee your private information won't be revealed accidentally or deliberately. As such, more and more users are looking for ways to buy bitcoin and Ethereum without having to give their sellers a treasure trove of their sensitive details. If you want to purchase bitcoin and Ethereum without verification, these are five of the best ways you can do it.
Looking for safe options to trade Bitcoin or Ethereum? Try these brokers: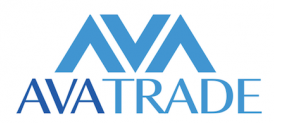 The company was created as a combined effort of financial professionals and experts in web-commerce with the goal of perfecting the online experience for retail traders.

Plus500 is a FTSE 250 listed brokerage providing online trading services in CFDs, across 2,000+ securities and multiple asset classes.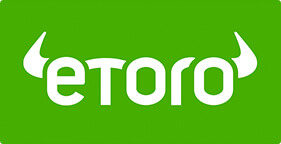 eToro is a multi-asset platform which offers CFD and non CFD products. 66% of retail investor accounts lose money when trading CFDs with this provider. You should consider whether you can afford to take the high risk of losing your money.
1. Crypto ATMs
Bitcoin ATMs are becoming more common in major cities across the world though their reach is still not incredibly broad. These automated crypto stations let you exchange fiat currency (either in cash or payment card) for cryptocurrencies instantly and have no requirements for smaller sums of money. Additionally, the fact that you can pay with credit or debit does not mean you will be identified. A few rare ATMs will require some form of "ID" such as scanning the palm of your hand, but by and large this is one of the most anonymous means of buying bitcoin or Ethereum without having to undergo an extensive verification process.
One of the possible downsides of ATMs in terms of remaining anonymous is that many will place a cap on how much you can spend without requiring ID. For many, it's $750, so if you wish to purchase a single bitcoin or make a larger buy of Ethereum, you'll have to spread it over multiple transactions to avoid having to present ID.
Another issue is that in order to use these ATMs, you must have a destination wallet. You can easily get around this by signing up for one of the many mobile wallets that require nothing more than an email account to complete registration. This way, you can use an anonymous email and ensure your identity is kept completely safe throughout the process.
A Crypto ATM is your best bet when you need to make a smaller anonymous purchase, or when you're simply looking to test a strategy with a smaller number of coins.
Unlike many exchanges that must comply with strict Know Your Customer and Anti-Money Laundering policies that require stringent verification, some websites are geared towards simply exchanging coins between users. Such is the case with these two websites, which offer similar, though decidedly unique services for users who simply want to purchase Bitcoin. These two sites do not offer any trading or portfolio management tools. Instead, they're simply portals for buying and selling between individuals.
LocalBitcoins offers a more digital experience, helping users complete transactions offline or directly online with a variety of payment methods. This includes credit cards, PayPal, money orders, and even cash payments in person. To get started, you simply have to sign up for an account (which does not require you to share any personally identifiable information) and choose the seller you're interested in buying from. Prices on the website are not Bitcoin's actual value, but the price at which sellers are willing to part with their holdings.
Buy with LocalBitcoins
WallOfCoins operates under a similar philosophy, but it restricts transactions to in-person cash deposits. The website doesn't require any specific identifiable information aside from a phone number for contact purposes. When you select a Bitcoin seller, they will approve you and share bank details for an account near you. To complete your order, you must deposit the funds into their account and wait for confirmation. To ensure coins aren't stolen or buyers aren't defrauded, the company places coins into escrow temporarily.
For anonymity purposes, it's hard to compete with these websites, since they do not require any piece of information that could identify you. The benefits include the ability to pay in cash and a variety of other methods as well as the simple peer-to-peer nature of each website. On the other hand, however, neither website uses Bitcoin's market value, instead letting users determine how they value the coins in their possession. Overall, these are great tools to quickly buy cryptocurrencies without the stress of complicated verification processes and the associated compliance delays experienced at major exchanges.
3. ShapeShift
Although more crypto exchanges are strengthening their KYC and verification protocols, many remain married to the original goal of full crypto anonymity. Such is the case with ShapeShift, a website for buying and selling cryptocurrencies that looks to completely cut out traditional financial systems. The website operates entirely in cryptocurrencies, and requires no registration, email, or any information to let you start exchanging your coins for other cryptocurrencies.
To get started, you simply choose the cryptocurrency you wish to deposit, and which coin you wish to receive in exchange. Once selected, you'll be asked to input your destination address, as well as the refund address for the cryptocurrency you're using to fund the exchange. Once you've agreed to the website's Terms, you'll be able to complete the transaction without any further steps.
One of the biggest benefits ShapeShift delivers, aside from the complete anonymity, is a complete absence of transactional fees. The only charge added to any exchange is a small miner fee though the company does not collect any service fees from transactions. On the downside, however, ShapeShift does not accept any fiat currency for deposits, so you'll have to hold one of their several accepted coins before being able to exchange for Ethereum or Bitcoin.
4. BitQuick
A similar service to LocalBitcoins and WallOfCoins, BitQuick focuses exclusively on providing ready-made solutions, instead of having you search through alternatives. The company platform works similarly to peer-to-peer services, but in this case all interactions are handled directly through BitQuick. Additionally, the company doesn't require any sort of login or credentials outside of a phone number that can be used to verify the transaction.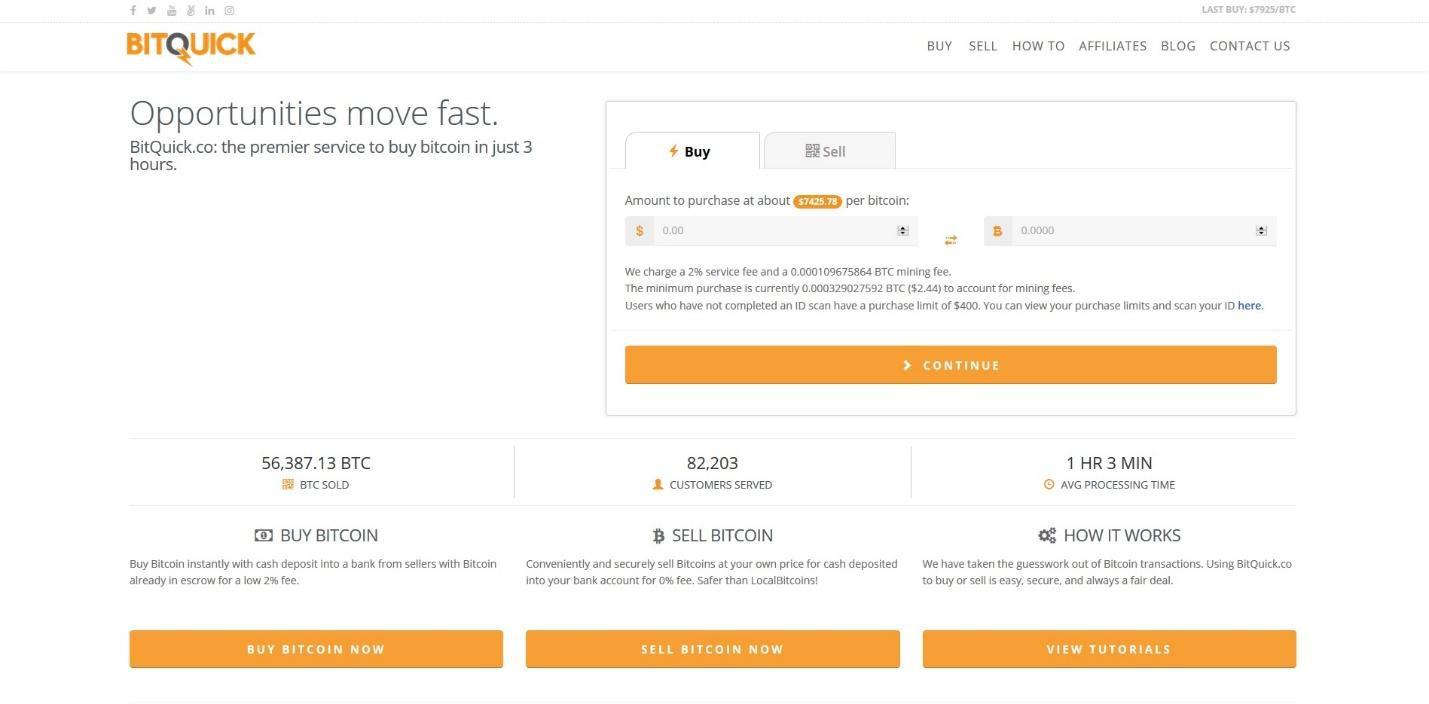 To get started, you simply have to list how much Bitcoin you would like to purchase. Unlike WallOfCoins and LocalBitcoins, however, the company's listing only includes deposit locations and the price of the coins, as opposed to sellers. You can either browse the available price options on the company's order book, or you can use the quick buy tool to have the most convenient locations in terms of price and distance listed.
To get started, you simply need to choose how much you would like to purchase in your local fiat currency. Once you can view the available options for your chosen amount and location, you just need to click one closest to you and ensure you can arrange a deposit of funds within three hours of finalizing the transaction. After the deposit is confirmed, funds will be transferred to the destination wallet you provided, and there is no record left.
5. Bisq.Network
One of the more popular trends to emerge in the cryptocurrency sector is the decentralized exchange, which removes any form of centralization in favor of P2P interactions. Bisq (formerly BitSquare) is just such a platform, offering a completely peer-to-peer ecosystem that allows users to buy bitcoins and other altcoins for fiat currencies with no friction.
The company's platform is a downloadable application (although the more tech-savvy can build their own version from the source code) which lets users simply transact with each other. Bisq makes it clear the platform is not meant to store any value, which adds to its security since there is no incentive to hack it. To get started, you just need to download the application, list the coins or currencies you have and wish to exchange, and find a suitable partner.
Bisq does include robust security measures, though it does not enforce them as a central entity, instead baking the measures into the application itself. To purchase bitcoin or Ethereum, you simply need to create an offer for trade, or find an existing one. After that, the platform will help both parties finalize the deal and will handle transferring the funds. It's important to note, however, that Bisq at no point holds the coins. Overall, it is a useful tool for the more tech savvy, and it gives you an excellent way to guarantee that you will remain anonymous.
Buy Crypto and Remain Anonymous
While most websites require verification, there are still ways for you to remain anonymous while participating in the crypto community. By employing these channels, you'll be able to access the market and stay protected simultaneously. More importantly, you'll be able to quickly and painlessly buy bitcoin and Ethereum when you want, without complications.