Bitit Review: What You Must Know Before Getting Started
Bitit is an upstart cryptocurrency exchange that is newer to the industry. Based in France, the company is fully regulated and offers the ability to buy cryptocurrency with multiple fiat currencies. Moreover, an easy signup process will likely be appreciated by those who dislike the complicated and lengthy verification processes on other platforms. Users can buy crypto with their credit cards and other unique payment methods and will appreciate a no-nonsense interface that makes it easy to participate in the markets.
Looking for safe options to trade crypto? Try these brokers: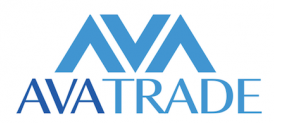 The company was created as a combined effort of financial professionals and experts in web-commerce with the goal of perfecting the online experience for retail traders.

Plus500 is a FTSE 250 listed brokerage providing online trading services in CFDs, across 2,000+ securities and multiple asset classes.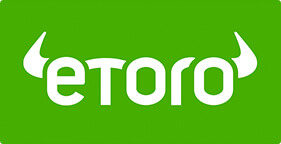 eToro is a multi-asset platform which offers CFD and non CFD products. 66% of retail investor accounts lose money when trading CFDs with this provider. You should consider whether you can afford to take the high risk of losing your money.
| | |
| --- | --- |
| Bitit Key Information | |
| Company Location: | Paris, France |
| Mobile App: | No |
| Fiat Deposit: | Yes |
| Fiat Withdrawal: | No |
| Transfer Limits: | €150 unverified, €1,500 weekly verified with CC, €2,500 weekly with other payment methods |
| Supported Fiat: | EUR |
| Payment Methods Accepted | Credit card, TrustPay, Cashlib and Neosurf vouchers, Bitit gift cards |
| Supported Crypto: | 25 including BTC, ETH, XRP, XLM, DASH and more |
| Supported Countries: | 50 countries including EU, UK, US and more |
| Fees: | 2.50% deposit fee for TrustPay and up to 6.90% fee for buying with a credit card |
| Website (URL): | Start trading at Bitit.io |
Login and Signup
Creating a Bitit account is simple and can be done by clicking on the Sign Up button at the top right corner of the company's homepage. You'll need to give your first and last name, a valid email address and then pick a safe password. Agree to the privacy policy and terms of use then input your address, city, postal code, birthday and country of residence.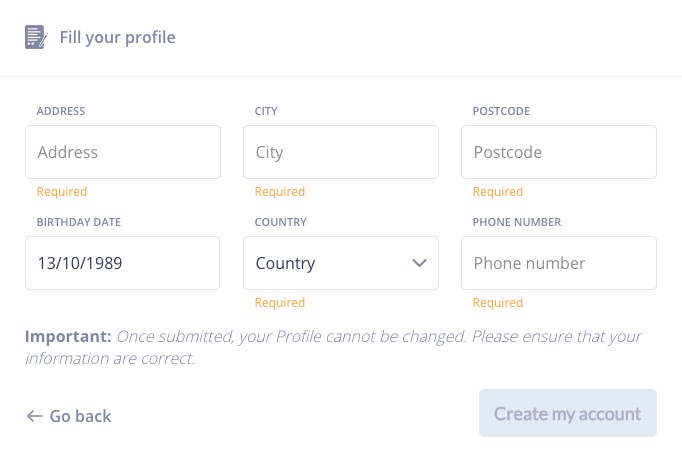 Confirm your account by checking your email account and then finding Bitit's registration email and clicking Confirm My Account. After being redirected back to Bitit, you will still be unable to purchase cryptocurrency with fiat unless you verify a passport or ID, though you can trade cryptocurrency without further verification (with limits on deposits and withdrawals).
How Does It Work?
New users who want to get the most out of Bitit will verify using the menu that pops up after confirming their account. Click on the preferred ID you want to verify to get started. Alternatively, click on I'll Do This Later to go to the dashboard where you'll be able to deposit and exchange crypto, albeit in limited capacity. Bitit recommends users verify their passport and advertises a 5-minute verification time. Input the details of your passport including full name, issue and expiration date, passport number and other details. Then upload a picture of the passport and wait for the verification email to arrive.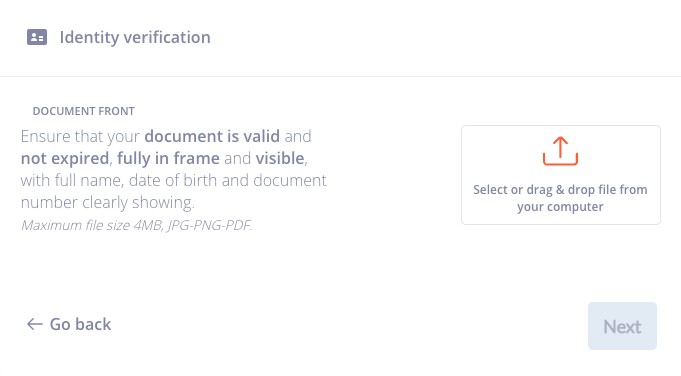 After verifying, you'll be able to add a credit card or European bank account to Bitit and to purchase cryptocurrency. You can do so by clicking on the Buy tab on the top of the website, where the full range of cryptocurrencies will be revealed for purchase. Before buying, however, it's important to add the cryptocurrency wallet you want to receive your coins. Bitit does not have wallets of its own but can send coins bought on its platform to whatever wallet you save in your profile. Adding a wallet is as simple as clicking on Wallets, then pasting the wallet address into the field displayed and clicking Save Wallet Address.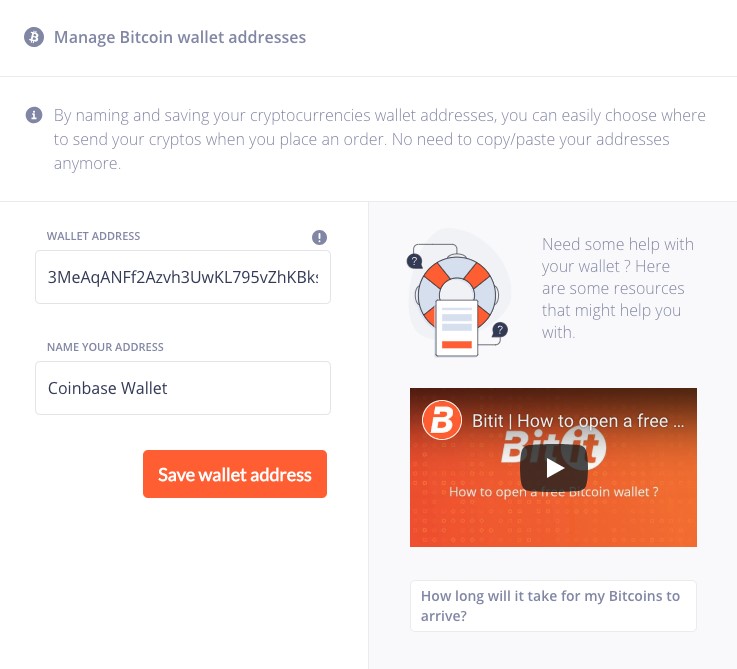 After saving a wallet, return to the Buy screen to initiate a purchase. Select credit card to change the fields to reflect your choice, and enter the information required including card number, expiration date, CVV code and your full name. Bitit supports all major card networks including VISA, Mastercard, Maestro, and Amex. Using a bank account is accomplished through TrustPay (compatible with SEPA) and is only available for EU users. One can also use a Bitit gift card or click on Store Locator to find a local shop that will sell crypto over the counter to those who pay with Cashlib, Neosurf, or Bitit vouchers. After the purchase, choose the external wallet you'd like to send the coins to and then Proceed to Payment.
Countries Supported
Bitit operates legally in more than 50 countries around the world including the UK, US, and most of the EU (given that it's a French company). The company is regulated in France, which means it's under the jurisdiction of EU's Information Commissioner's Office in charge of overseeing cryptocurrency exchanges as well as other financial services in the territory. Additionally, Bitit support operates in several languages and is able to quickly verify IDs and passports from virtually anywhere.
Supported Cryptocurrencies and Liquidity
Bitit is connected to live markets and offers real-time pricing for buying customers, but selling cryptocurrencies is not available and so liquidity is less of an issue. In terms of cryptocurrency support, Bitit allows users to purchase 25 cryptocurrencies on its platform including popular ones like Bitcoin, Ethereum, and Ripple, but also lesser known altcoins such as Zilliqa, Siacoin, and Civic.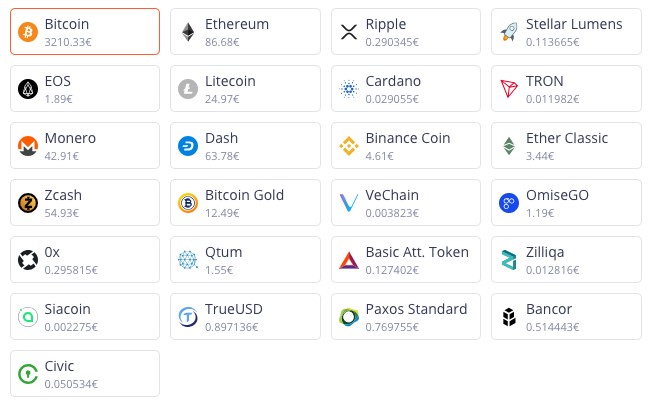 Deposit/Trading/Withdrawal Fees
Trading fees are irrelevant to Bitit users as there is no live trading or cryptocurrency exchanging on the platform. Withdrawal fees are also nonexistent as all cryptocurrency purchases made on Bitit are automatically sent to one's specified external wallet (whether it be an exchange wallet or other type). Deposit fees are merely fees associated with different purchasing methods and can be as low as 2.50% for TrustPay and up to 6.90% for buying with a credit card. Using a voucher to pay for crypto on-site carries an even higher fee between 5.90% to 11.90%. This doesn't account for fees or taxes that the store may impose, or exchange fees from one's bank.
Transfer Limits
The only limits levied on users are for their purchases. Unverified users can only buy €150 euros per week, while verified users with a credit card are able to boost this to €1,500. Other payment methods such as cash vouchers or Bitit gift cards mean a higher limit of €2,500. Bitit plans to expand its supported payment methods to include direct banking and not merely TrustPay, and for verified users the maximum on wire purchases will be €30,000 weekly.
Security: Is Bitit Safe to Use?
Bitit doesn't require a complicated security apparatus like other exchanges with more functionality do. Because the platform doesn't store funds, it doesn't need to provide cold storage or deal with loss, so users should rely on the safety of the wallet they're depositing to from Bitit. Additionally, Bitit thoroughly enforces all relevant EU regulations regarding privacy of data, keeping it fully encrypted. It does not store credit card numbers nor account passwords, making it very safe to use. The site also follows international KYC (Know Your Customer) standards.
Company Reputation
Despite its relative newness to the cryptocurrency marketplace, Bitit has a good reputation among its users. Chief among their praises are the unmatched variety of payment methods, nearly instant credit card purchases, and easy integration with other wallets. Users who reach their daily or weekly limits on other platforms can easily log into Bitit and use it to get more exposure, and for some, the ability to make in-person purchases at a store is an enormous boon.
Conclusion
Bitit is a great addition to the marketplace and is cut from the same cloth as Coinbase (not Coinbase Pro) in that its simple interface and many common payment methods are designed to introduce beginners to cryptocurrency. Despite high fees and the absence of crypto deposits, Bitit makes up for it with a unique gift card and voucher system and superior reliability.