Nano (NANO) Review – Instant, Free and Infinitely Scalable Transactions
| | |
| --- | --- |
| Name | Nano |
| Ticker | NANO |
| Token Supply | 133,248,290 |
| Initial Price | $0.009 |
| Category | Currency |
| Website URL | https://nano.org/en |
| White Paper URL | https://nano.org/en/whitepaper |
Nano is a cryptocurrency with an innovative block-lattice architecture, giving each account it own blockchain in order to deliver instant transactions speed and unlimited scalability. Rebranded from Raiblocks early this year, Nano's mission is to become a global currency with instant transactions and no fees over a secure, decentralized network.
The Idea Behind Nano
As Bitcoin matured and became increasingly popular, it became more evident that it had several challenges to overcome before mass adoption. First, it had limited scalability, with median transaction fees of $10.38. Second, it had high latency, with the average confirmation time being 164 minutes. Lastly, it had inefficient power consumption, consuming 27.28TWh per year, an average of 260KWh per transaction.
Nano touts several main advantages compared with Bitcoin. It allows for instance transactions, so it can be used for both large and small purchases. It guarantees infinite scalability, with the ability to process over 1000x more transactions per second than Bitcoin. As of publication time of the Nano white paper (November 2017), Nano has processed 4.2 million transactions with an unpruned ledger size of 1.7GB. In addition, it promises that it will not charge to use the coin, and users will only pay for the purchase no matter what the item.
Formerly known as Raiblocks (with the symbol of XRB), Nano is a cryptocurrency with low latency and a simple protocol designed for high performance. It was one of the first Directed Acyclic Graph (DAG) based cryptocurrencies, and as a result improve system performance and security.  DAG structures allow no theoretical limit of transaction throughput since they are grouped rather than made to go in a sequence.
Since Nano can function on low-power hardware, it is a practical choice for decentralized cryptocurrency for peer-to-peer transactions.
Rebranded at the beginning of 2018, the new name and logo of Nano represent the simplicity and speed of the projects.
Nano was founded by Colin LeMahieu, who functions as the Creator and Lead Developer along with fellow lead developers Russel Waters and Roy Keene. Before Nano, Colin was a LLVM software tools engineer at Qualcomm. He has over 10 years of experience in software development. Russell Waters previously worked as a technical training specialist at Carbonite, a company that protects personal and business data from data loss.
Nano Price History
Nano launched in April of 2017 with an initial price of $0.009. The coin rose to $34.42 on January 5 of this year before falling down to $1.07. The rise in the coin coincided with its being traded on Kucoin and BitZExchange. In addition, although the project was started in 2014 and launched in 2015, Colin LeMahieu was only able to turn his attention to the project full time in 2017, which then spurred serious growth for the coin.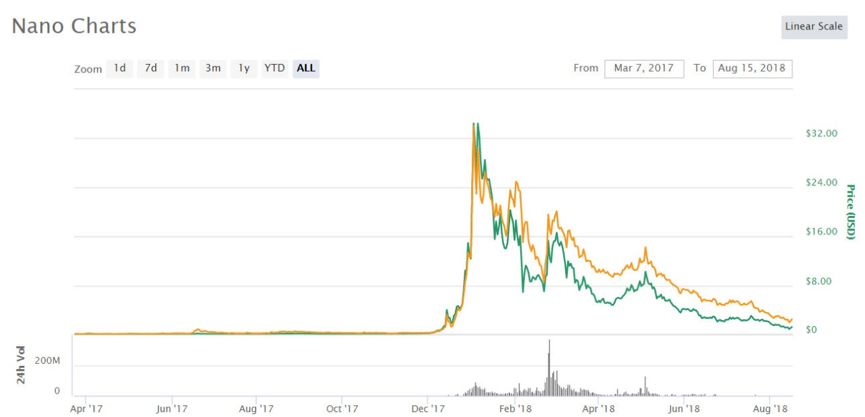 Nano listed on Binance and OKEx in the beginning of February, on BitInka in July, and continues to be listed on various cryptocurrency exchanges. The price of the coin also rose after the rebranding was announced by 20% in 24 hours.
The Nano Block-Lattice Structure
Nano stands out in the cryptocurrency space with its block-lattice structure. Each individual account has its own blockchain (account-chain) with it being part of a larger directed acyclic graph (DAG). These account-chains include the account's transaction/balance history. Since each account-chain can only be updated by its own, account-chains can be updated immediately and asynchronously, facilitating quick transactions. Since each individual user can verify their own transactions, it is not necessary to update the entire ledger together in massive blocks.
Nano's protocol is light-weight, with minimal hardware requirements for nodes. Each transaction fits within the required minimum UDP packet size for being transmitted over the internet. Due to its lightweight, running nodes cost almost nothing and the system is able to process transactions without fees.
The first account in the system was a genesis account with a genesis balance of coins. This balance was divided and sent to other accounts, but it will never exceed the genesis balance.
The Nano Consensus Mechanism
Nano's consensus is based on account balances. Every account selects a wallet address that becomes their representative, or a node that can vote. Account holders can reassign their representative at any time by subtracting the vote weight from the old representative and giving it to the new. Since votes are weighted by account balances, those with more funds have more of an incentive to keep the system honest since more is at stake.
Security and Prevention Against and Attacks
Since there are no fees to use Nano, it is highly vulnerable to spam. To deter spam, Nano employes a PoW to use with the next transaction following the completion of the first transaction. This PoW is similar to Hashcash and can be compute in a matter of seconds.
Nano is vulnerable to a 51% attack, meaning that if an attacker can gain over 50% of voting strength, they can break the network. To prevent such an occurrence, Nano ties vote weight to investment in the system. That means that account holders have an incentive to see that the system is honest, since destructive attacks would destroy their investment. In addition, a Delegated Proof of Stake (DPoS) system allows minimal energy consumption and requires only light-weight software that runs on low power hardware.
How to Purchase Nano
The main exchange for purchasing Nano is on Binance, which currently has the largest daily volume of the currency at almost $5 million. Nano can be traded on Binance for BTC, ETH and BNB.
Nano is also available on the following exchanges:
How to Store Nano
Nano can be stored on the Nano wallet, which you can download as a desktop, online or mobile version in Mac or Windows or as a mobile app (for ioS or Android) from the Nano website.
For maximum security, however, you should store your Nano on hardware wallets such as Ledger Nano S.  Integration of Nano to Ledger Nano was recently completed as of June.
Roadmap and Future Plans
Nano has an extensive development roadmap available here that is constantly being updated.
Nano has many real-world applications. Its instant and zero-fee transactions make it ideal for cryptocurrency traders as well as peer-to-peer transactions. Nano has applications in micropayments, with the ability to pay small amounts for digital assets rights and content subscriptions. It also has applications in e-commerce as seamless checkouts both in store and online.
Nano will continue to work with leading industry leaders to deploy technologies that will fulfill its goal of Nano becoming a global currency with instantaneous transactions and zero fees over a secure, decentralized network. The team is working with industry leaders on a "plug & play," turn-key, horizontally scalable cloud network infrastructure.
Long term, Nano's goal is to become a cryptocurrency traded on every major exchange. In meeting this goal, they will continue to focus on the Asia and South American markets for mass adoption. In addition, their goal is to provide region-centric communities with community managers and a resource for those in the non-English speaking world to learn more about Nano.