Veteran blockchain enthusiasts understand that one of the most promising technologies in the space is Ethereum, and cryptocurrency investors also see it as a unique opportunity. With functionality as a payment solution and as a "decentralized computer", many traders are looking to add it to their growing portfolio or to begin their investing journey with Ethereum. There are many ways to buy popular cryptocurrencies like Ethereum, but the easiest is with a credit or debit card, no matter your level of experience in the market.
Blockchain technology has evolved several times in the last handful of years, and modern exchanges have figured out how to incorporate traditional payment solutions into their platforms. One can create an account, get a wallet, and buy Ethereum with their card within minutes. Whether they want to set up consistent buys and hold for the long-term, trade their ETH to gain exposure to the wider cryptocurrency market, or use it within a decentralized application, there are several great places to go.
CEX.io
Regions Supported: All countries, sans certain ones in the Middle East and Africa
Requires Identity Verification: No
Number of Coins Listed: 8
2-Factor Authentication: Yes
Credit Card Deposit Fee: 3.50%
Credit Card Withdrawal Fee: Up to $3.50
Daily/Monthly Buy Limit: $1,000/$3,000
CEX.io is a great option for cryptocurrency traders everywhere, as the exchange supports nearly every country on the planet. However, customers from Africa and the Middle East will not be able to use their credit cards to buy cryptocurrency, just other payment methods. This includes Yemen, Saudi Arabia, Qatar, Pakistan, Oman, Nigeria, Libya, Kuwait, Iraq, Bahrain, Afghanistan, Algeria, Vietnam, and Iceland. In these jurisdictions, rules about cryptocurrency are not as mature, but everywhere in Europe and North America is fully supported.
Signing up for CEX.io is simple, and requires a valid email address, Facebook account, or Google account. Afterwards, CEX.io requires that new customers verify their phone number, which adds another layer of authentication to the login process and increases security. Customers don't need to enable 2FA, but CEX.io makes it clear that this isn't recommended.
You'll then be presented with a window featuring several panels, each of which allow you purchase Ethereum in a convenient amount like $200, $500, or $1,000. It's important to select Ethereum from the dropdown above these panels, and then the currency your credit or debit card operates in. Otherwise, your card will probably charge you a foreign transaction fee (on top of CEX.io's fee). For custom amounts, simply enter the amount of money you'd like to spend, and the panel will illustrate the amount of cryptocurrency you'll receive.
After entering the credit or debit card number you wish to use for the purchase, your full legal name, CVV code, and expiration date, you'll be prompted to make the payment. Once you click the button, you'll see a new "Payment" entry in the 'Finance' tab of CEX.io's website and, when the transaction clears, the appropriate amount of cryptocurrency in your wallet (on the same page).
Fees on CEX.io are standard for card purchases, with a processing fee for deposits of up to 3.50% and a negligible fixed payment of up to $3.50 on withdrawals, depending on which currency you use. Purchase limits are $1,000 daily and $3,000 monthly for basic members, but verified accounts enjoy unlimited deposits and withdrawals on CEX.io.
Coinbase
Regions Supported: 33 countries in North America, Europe, Asia, and Australia
Requires Identity Verification: Yes
Number of Coins Listed: 4
2-Factor Authentication: Yes
Credit Card Deposit Fee: 50%
Credit Card Withdrawal Fee: No withdrawals to CC
Daily/Monthly Buy Limit: $7,500/$100,000
Coinbase is by far the most trusted exchange in North America and Europe, with several prominent VC backers, a headquarters in San Francisco, and a long history of reliable service. The exchange has two platforms, its professional Coinbase Pro trading dashboard, and a more basic interface on Coinbase.com, where enthusiasts can buy Bitcoin, Bitcoin Cash, Ethereum, and Litecoin with a verified bank account or a debit card. Some countries (and grandfathered-in customers) can use credit cards to buy cryptocurrency, but Coinbase recently suspended the addition of new credit cards to their platform. Coinbase also has a large institutional customer base and offers superior bulk storage with their Coinbase Custody platform.
To start buying Ethereum on Coinbase with your debit card, you'll first need to make an account, which entails verifying an email address. After verifying your email address, full name and agreeing to the Terms of Use, you'll be presented with the basic Coinbase dashboard. Click on 'Buy/Sell' here to see the options for fiat purchases.
Click on Ethereum first, and then on the dropdown labeled 'Payment Method', where you can choose to link a bank account, do a one-time wire transfer, or add a debit card. You'll need to add the card before you can use it to buy Ethereum, but once you do, it's saved in Coinbase's system and can be used to purchase cryptocurrency on demand. Instant purchasing isn't possible, but Coinbase gets close.
After receiving your debit card details, Coinbase will instantly send a small amount of fiat to your card's bank account in three payments, and you'll need to verify the two payments above $1.01 before using the card on Coinbase. To do so, enter these exact amounts in the window and click 'Verify card'.
The 'Buy/Sell' window now has your debit card as a purchase option. Select Ethereum, your debit card, and then choose the amount of ETH you want to buy (limit is $7,500 weekly purchases and $100,000 weekly withdrawals). You can set up automatic daily, weekly, bi-monthly, and monthly buys of any amount, if you wish. Fees for credit card purchases are standard at around 3.50%.
CoinMama
Regions Supported: Over 180 countries
Requires Identity Verification: Yes
Number of Coins Listed: 8
2-Factor Authentication: Yes
Credit Card Deposit Fee: 00%
Credit Card Withdrawal Fee: No withdrawals to CC
Daily/Monthly Buy Limit: $5,000/$20,000
Coinmama has customers from all around the world who can buy cryptocurrencies like Ethereum directly with their credit and debit card, and it remains one of the easiest portals into the crypto world. It supports over 188 countries and has millions of members, loyal since Coinmama's founding in 2014. Though fees for credit and debit purchases are a bit higher than with its peers, and credit users will need to verify their identity, the exchange's speed and awesome customer support make it a competitive option for investors everywhere.
To get started on Coinmama, the exchange first asks you for a valid email address, your full name and country of residence. You'll need to verify your email, and will then be required to verify your identity as well before buying any cryptocurrency.
The ID verification page asks for some basic information like your name, current address, date of birth, and details of a valid government-issued ID (like a driver's license or national social document of some kind). With so many countries to support, the Coinmama team needs to be capable of verifying documents in many languages and places of origin, and they can do so quickly.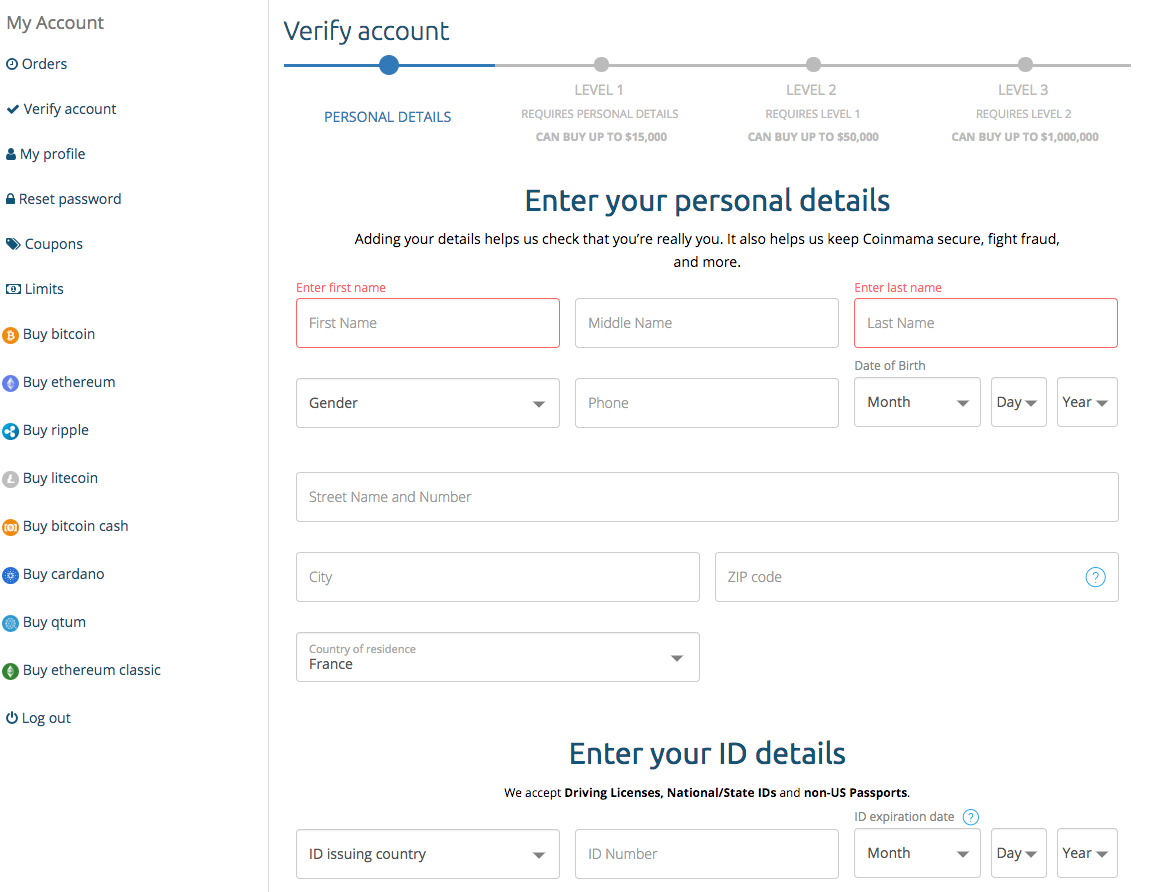 The exchange will ask you to upload an image of the front and back side of the ID you've chosen to verify yourself with. You'll also need to take a selfie with your ID and a piece of paper with 'Coinmama' and today's date written on it. After uploading your images, you'll wait around a week or so to hear from Coinmama and can then login to your Tier 1 account, attach a card to it, and begin buying Ethereum in amounts up to $15,000 instantly.
After receiving Tier 1 verification, Coinmama's 'Buy' links will stop forwarding you to the 'Get Verified' page and allow you to choose from a variety of preset buy amounts, or to enter your own custom amount. Click 'Buy Now' and then enter your existing Ethereum address, your card details, and watch the Ethereum hit your wallet in mere minutes.
Changelly
Regions Supported: Worldwide
Requires Identity Verification: No
Number of Coins Listed: 90
2-Factor Authentication: Yes
Credit Card Deposit Fee: 50%
Credit Card Withdrawal Fee: No withdrawals to CC
Daily/Monthly Buy Limit: Up to $200/Unlimited
Changelly is a special, seamless web-based exchange that makes it uniquely easy to purchase cryptocurrency, or to trade one for another. Everything is accomplished on their simple, comprehensively functional home page, instead of navigating the sometimes-complicated windows and processes of the traditional exchange format. One can simply click 'Buy Bitcoin with Credit Card' to get started.
You'll then be presented with a screen where you can choose how much ETH to buy. Changelly's $20,000 buy limit is great for those who don't want to verify their information, yet still buy a lot of cryptocurrency. On this window, you'll enter a valid Ethereum wallet address to send the ETH to post-purchase.
Afterwards, just enter your credit card and billing information, click 'Continue' and go through the quick Payment and Verification steps. The ETH will arrive in your wallet per the blockchain's current processing time. Changelly uses a third-party payment processing service called Simplex, which shows up on your bill as 'Buyeglcom', regardless if you buy BTC, ETH, or another cryptocurrency on Changelly. At 6.00%, fees are a bit on the steep side, but for such a convenient service this is acceptable.
Buying Ethereum Has Never Been Easier
Forget the crypto-to-crypto exchange paradigm, which requires users to know how to navigate a cryptocurrency wallet and be familiar with blockchain terms. It's crucial to have easier entry points into the market, not only for new traders and investors but for the market. Any of the exchanges and services above are an excellent way for an uninitiated person to get started, or for a veteran investor to put more of their capital in this highly lucrative asset class.